OAN ordered to pay Rachel Maddow and MSNBC $250,000 in a failed defamation lawsuit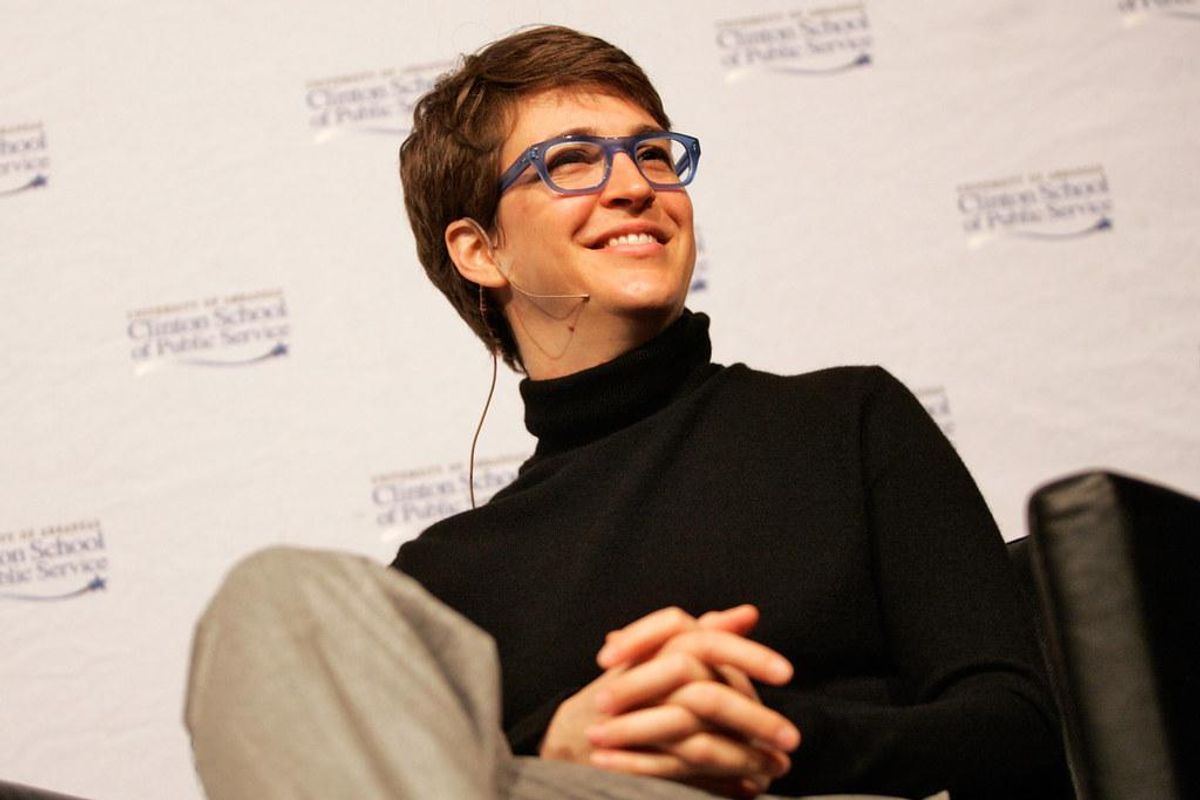 Image via Creative Commons/The Rachel Maddow Show
One America News Network (OAN) has been ordered to pay $250,000 to Rachel Maddow and MSNBC after a failed defamation lawsuit was struck down in California federal court.

OAN is an extreme right-wing news network that's been championed by former President Donald Trump.
OAN filed the suit after an episode of Maddow's show that aired on July 22, 2019, in which she claimed that Kristian Rouz, a reporter on the network, was "paid Russian propaganda."
---
The network called the claim "utterly and completely" false. "OAN is wholly owned and financed by the Herrings, an American family. OAN has never been paid or received a penny from Russia or the Russian government," the lawsuit states.
@SethAbramson *His previous work. Kristian Rouz. Daily Beast also talked about him last year. https://t.co/wxj8UcCf8s

— Scott "Wear a Mask in 2021" Nickell (@Scott "Wear a Mask in 2021" Nickell) 1591717032.0
Maddow's comments came while reporting on a Daily Beast article that revealed Rouz wrote over 1,3000 articles over four and a half years at Sputnik News. Sputnik News was created in 2013 by Russian President Vladimir Putin to promote Russian interests abroad.

Rouz's work for the network included peddling conspiracies about Hillary Clinton's involvement with Antifa and false claims that conservative bogeyman Goerge Soros worked with Nazis during World War II.
Sputnik been dubbed the "Buzzfeed of Propaganda" and Nato has accused Sputnik of being part of a "Kremlin propaganda machine" distributing biased articles and "misinformation" to influence political opinion around the world.
In 2019, Facebook removed 300 pages that were part of a disinformation campaign run by employees of Sputnik. Facebook says the pages presented themselves as independent news pages that posted articles on topics such as politics, weather, and economics.
So, given the reporter's connection to Sputnik, Maddow was correct in saying the reporter was being paid to produce "pro-Putin propaganda" for the Russian-funded network. "In this case, the most obsequiously pro-Trump right-wing news outlet in America really literally is paid Russian propaganda," Maddow said. "Their on-air U.S. politics reporter is paid by the Russian government to produce propaganda for that government."
Maddow made a name for herself as a broadcaster during the trump presidency by following the multiple ties between his Administration and Russia.
ONN's parent Herring Networks sued Maddow and MSNBC for $10 million dollars over her comments.
However, U.S. District Judge Cynthia Bashant struck down Herring's case last May because it wasn't supported by facts.
Maddow won dismissal under California's Anti-Strategic Lawsuits Against Public Participation (Anti-SLAPP) law after the court found that the statement is "opinion and rhetorical hyperbole protected under the First Amendment."

"Because there is no set of facts that could support a claim for defamation based on Maddow's statement, the complaint is dismissed with prejudice," U.S. District Judge Cynthia Bashant said. "After Defendants' motion for attorney's fees is resolved, the Court will instruct the Clerk to close this case."
Under the state's anti-SLAPP statute, an award of attorneys' fees to a prevailing defendant is mandatory.
The defendants in the case asked for $347,0000 and OAN countered with $85,000. The final settlement was determined to be $250,000.
ONN should be more concerned that it is destroying its own credibility as a news organization by hiring reporters with questionable pasts than using its resources to fight back against those who pointed it out. But, given the number of conspiracies peddled by the network, it appears as though credibility is its last concern.
#Defamation lawsuits are expensive. And you don't want to lose. A senior associate at Gibson Dunn gets $960/hour to… https://t.co/Fc7JpjOy7u

— Paula Chertok🗽 (@Paula Chertok🗽) 1612724161.0