Sports
Mourners are using hockey sticks to show their love with #HumboldtStrong.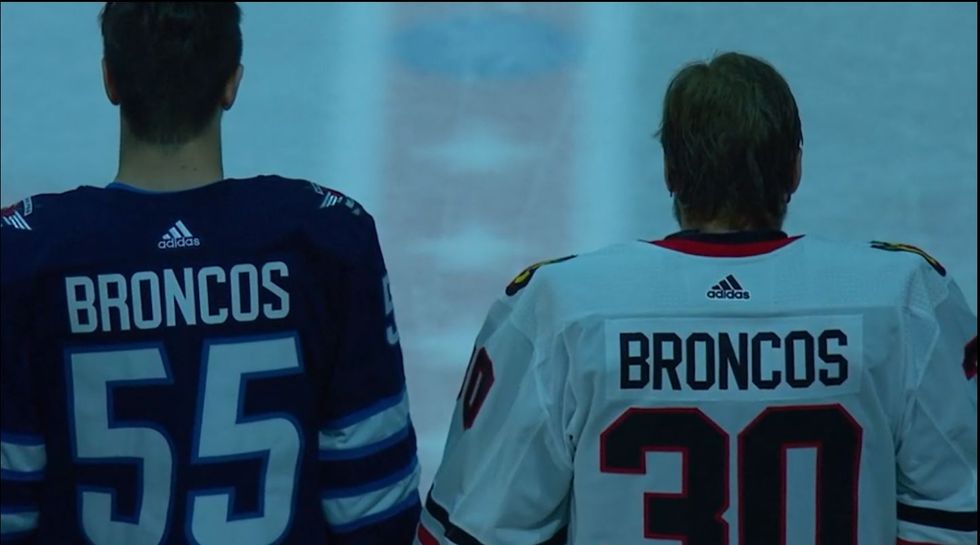 As soon as news broke of the terrible accident involving the Humboldt Broncos junior hockey team's bus that took the lives of 15 people and injured many others in Canada last week, heartbreaking stories poured in on social media.
But almost immediately, an undercurrent of global love and support from the hockey community seemed to illuminate even the darkest moments.
---
Using the hashtags #HumboldtStrong and #SticksOutForHumboldt, fans, artists, current and former NHL players, and even professional clubs that might normally be adversaries on the ice have all expressed their heartfelt condolences and support for the fallen team members, staff, and their families on Twitter, Facebook, and Instagram.
Got this text from a friend who I went to high school with in Humboldt. Inviting you to do the same as we rememb… https://t.co/qZrKXogjS5

— Brian Munz (@Brian Munz)1523238588.0
Thought maybe they could use a goalie stick or two... #HumboldtStrong #SticksOutForHumboldt https://t.co/6eVkDeaiJy

— Cam Talbot (@Cam Talbot)1523337811.0
The sticks are out for you in LA, boys. 💚💛 #HumboldtStrong https://t.co/TMOzbasHuh

— LA Kings (@LA Kings)1523419202.0
Thank you to one Cindy Klassen for sharing this on Facebook. #HumboldtStrong #putyoursticksout https://t.co/4WHEjF7W8r

— Less Cool But Canadian Chris Pratt🇨🇦🍁 (@Less Cool But Canadian Chris Pratt🇨🇦🍁)1523332040.0
Darcy and Mark....I never truly had a chance to thank you for how you treated me on my visits to Humboldt. So I hav… https://t.co/8zmND03SPr

— Curtis Hodgins (@Curtis Hodgins)1523375158.0
Teams around the National Hockey League participated in tributes.
Tonight, we're all Broncos. #PrayForHumboldt https://t.co/RCzmv767MK

— NHL (@NHL)1523143190.0
A moment of silence for all the lives lost and all the families affected. Our thoughts are with Humboldt. https://t.co/1stM5Xg9JU

— Colorado Avalanche (@Colorado Avalanche)1523149698.0
Both teams participate in a moment of silence for @HumboldtBroncos together as one hockey community https://t.co/qtXBfPFj9p

— Vegas Golden Knights (@Vegas Golden Knights)1523153455.0
Our heartfelt condolences go out tonight to the @HumboldtBroncos and all those affected by tonight's tragedy. The… https://t.co/OTbPHn5dY8

— Anaheim Ducks (@Anaheim Ducks)1523073242.0
We play for Humboldt. #PrayForHumboldt https://t.co/kgvUTmzokw

— Toronto Maple Leafs (@Toronto Maple Leafs)1523142133.0
We send condolence, comfort and strength to all affected by the devastating crash involving the Humboldt Broncos' t… https://t.co/SQuZcrao3z

— NHL (@NHL)1523110476.0
Artists, such as Silvia Pecota and Kerry MacGregor, have taken to Facebook and Instagram to express their feelings of loss through new works in honor of the fallen players and staff.
There's also been praise for a bystander named Kelsey Fiddler, who witnessed the crash and called 911, which has been spreading on social media after a Tweet by a friend was posted earlier this week. She stayed with the victims to her own detriment; pregnant, she had to be hospitalized afterward because of the stress of the situation. (She was later released with her pregnancy in stable condition.)
Others are sharing more moving stories that have emerged, such as Ryan Straschnitzki, an 18-year-old defenseman for the Broncos, who survived the crash but was left paralyzed from the chest down. He reportedly told his parents that the injury won't stop him from continuing his hockey career.
Ryan Straschnitzki a Humboldt Bronco who is paralyzed from the chest down and may never walk again says "Well, I'm… https://t.co/WXMmT1GJPb

— Troy Borthistle (@Troy Borthistle)1523333258.0
A GoFundMe page was created for the players and their families by the mother of a former Broncos teammate with an initial goal of $10,000. The fund has raised more than $9 million in donations as of this writing.