Politics
Trump was so unhinged on Fox News, Laura Ingraham tried (and failed) to coach him through it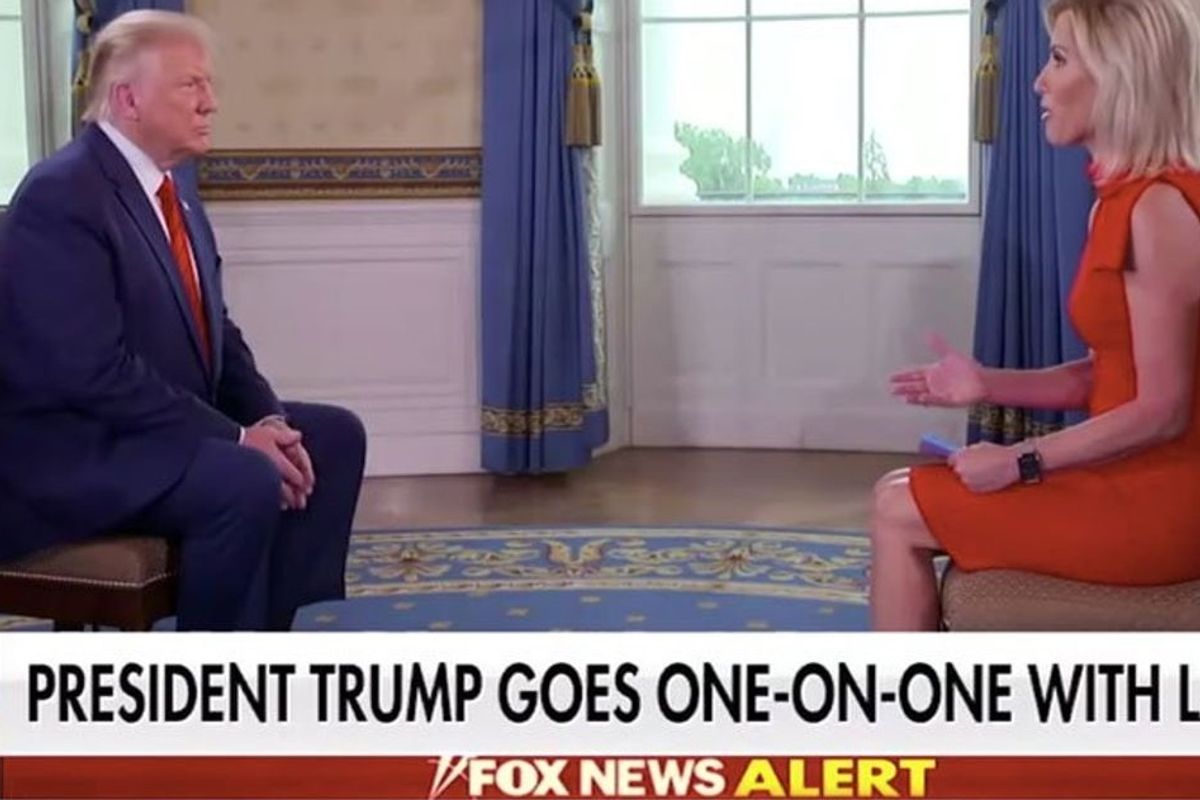 via Fox News
President Trump is always a little unhinged, but he took things a step further Monday night in an interview with Fox News' Laura Ingraham. During the interview, the president discussed some of the hot-button issues in the 2020 campaign, including the Jacob Blake shooting, Portland protests, and his opponent, Democrat Joe Biden.

Some of Trump's responses were so out of bounds that Ingraham appeared to subtly help him rephrase his comments to avoid any controversy that might hurt him in the election.
Ingraham is one of Trump's most ardent supporters on Fox, so you know the interview is going poorly for the president when she has to go out of her way to correct him.
---
One of the most egregious moments was when Trump tried to peddle a conspiracy theory that Biden is being controlled by mysterious, shadowy figures.
"Who is pulling Biden's strings?" Ingraham asked. "People that you've never heard of," Trump replied, "people that are in the dark shadows."
Ingraham responded to Trump's tin-foil hat conspiracy by trying to redirect him to safer territory, but he dug in deeper, citing a debunked QAnon conspiracy.
"What does that mean, that sounds like a conspiracy theory? Ingraham asked. "Dark shadows? What is that?"
"There are people that are on the streets, there are people that are controlling the streets," he continued. "We had somebody get on a plane from a certain city this weekend. And in the plane, it was almost completely loaded with thugs, wearing these dark uniforms, black uniforms, with gear and this and that," he continued.
"A lot of the people were on the plane to do big damage."
Even Laura Ingraham thinks Trump is a conspiracy theory nut job https://t.co/8qwmaKePGT

— Black Lives Matter (@Black Lives Matter) 1598931502.0
During a discussion of the Jacob Blake shooting, Ingraham tried to talk Trump out of his callous comparison of the shooting to a golf shot.

"I mean, couldn't you have done something different? Couldn't you have wrestled him?" he asked. "But they choke, just like in a golf tournament, they miss a 3-foot putt."
Ingraham quickly jumped in, knowing that the soundbite would make Trump look awful. "You're not comparing it to golf, because that's what the media would say," she said.
"No, I'm saying people choke, and people are bad people," he said. "[Police officers] can do 10,000 great acts, which is what they do, and one bad apple — or a choker, you know, a choker, they choke — shooting the guy in the back many times."
Trump compares police who shoot civilians to golfers who miss putts. TRUMP: "They choke. Just like in a golf tour… https://t.co/T9w2F4C1A7

— Pod Save America (@Pod Save America) 1598929416.0
One of the core priorities of the Trump campaign is to appeal to suburban women. Polls show he is trailing Joe Biden in the demographic by a 13-point margin. While most politicians try to hide their strategy and not make it obvious who they're trying to appeal to, Trump says the quiet part loud.

While speaking with Ingraham, Trump claims that Democrats are "trying to destroy the suburbs," he said. "They want low-income housing, and with that comes a lot of other problems, including crime."
Then Ingraham jumped in to allow him to clarify his potentially offensive comments.
"You're not saying poor people are criminals though," she said.
The president responded, "No, I'm not saying that at all, but there is a level of violence that you don't see." He then pointed out how women, specifically want security.
Trump: "Poor people are criminals" Ingraham: "You're not saying all poor people are criminals." Trump: "No. But a… https://t.co/pEioy2qGED

— (((evan shapiro))) (@(((evan shapiro)))) 1598933321.0
Watching Ingraham interview Trump was like watching an attorney hold a client's hand through cross-examination to prevent them from self-incrimination. Unfortunately, this is what passes for journalism at Fox.