Politics
Pete Buttigieg continues his Fox News massacre by deftly shutting down a Hunter Biden smear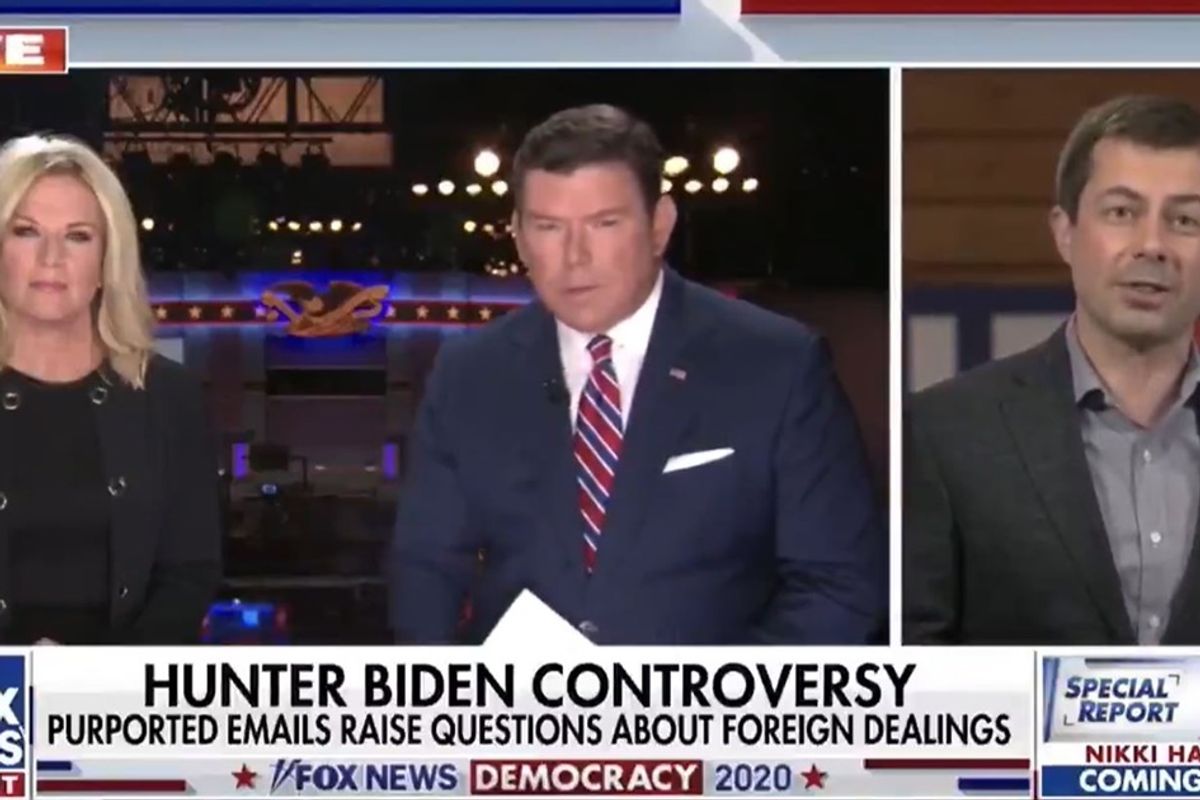 via Fox News
Former two-term mayor of South Bend, Indiana and 2020 Democratic presidential candidate, Pete Buttigieg, has been receiving a lot of attention on social media recently for his ability to shut down Fox News hosts.

Buttigieg has made several appearances on the news network recently as a surrogate for the Biden-Harris campaign and to promote his new book, "Trust."
"His threshold for doing a media hit at this point is, if it would be helpful to the Biden-Harris campaign, or for Democrats up and down the ballot, he's eager to do it," Buttigieg spokesperson Sean Savett told CNN Business.
---
Earlier this month, a clip of Buttigieg on Fox News criticizing Mike Pence's hypocritical support Trump went viral on social media.
Wow, Pete Buttigieg. https://t.co/mIzdDRM9Tm

— Frederick Joseph (@Frederick Joseph) 1602154234.0
As did a clip of Buttigieg from last year explaining late-term abortions to Chris Wallace at a Fox News presidential town hall.
Pete Buttigieg on late term abortionwww.youtube.com
"Sure, sex is great. But have you seen Pete Buttigieg shut down the Fox News panels?" actor and LGBT activist George Takei tweeted on October 8.
Sure, sex is great. But have you seen Pete Buttigieg shut down the Fox News panels?

— George Takei (@George Takei) 1602172197.0
On Thursday, Buttigieg was back at it again, this time responding to accusations leveled against Joe Biden's son, Hunter.
For those of you who live outside the Fox News bubble, the network has been obsessing over dubious revelations published by The New York Post about Hunter Biden. Allegedly, the Post has "smoking gun" emails that incriminate Hunter Biden in scandalous business dealings.
However, the emails have yet to be verified as authentic.
The story has been dominating Fox's election coverage, but it has had has little effect on the campaign outside of the conservative media bubble. It also reeks of desperation. Conservative media has nothing substantial to hang on Joe Biden so they resort to spurious allegations about his son.
So, when Bret Baier brought up Hunter Biden's so-called "business dealings," Buttigieg shut it down immediately.
"If they want to make this about the business deals of a government official, let's talk about the president of the United States having a secret Chinese bank account," Buttigieg said.
"And they won't even tell us what bank it's with," Buttigieg said. "Does that bother Americans? I'm pretty sure it bothers Americans a lot more than what they're trying to whip up for the last 12 days of this election season."
.@PeteButtigieg is doing gods work going on fox "news." https://t.co/Zqp6VGN49D

— Molly Jong-Fast🏡 (@Molly Jong-Fast🏡) 1603405659.0
Buttigieg's response was effective because it took the attention away from the allegations against Hunter Biden to a real situation regarding an actual candidate, Donald Trump.

A New York Times report on October 20 revealed that Trump had a bank account in China and that Trump International Hotels Management paid $188,561 in tax to the country from 2013 to 2015.
If Fox is concerned with questionable business dealings shouldn't they be focused on the president of the U.S. having previously undisclosed bank accounts? Shouldn't the American people know about the president's foreign business entanglements?
Pete Buttigieg has shown once again that his calm demeanor and clear way of presenting facts, can poke big holes in the Fox News bubble. In a world where people are only listening to one side of the story, Buttigieg is an important asset in bringing facts to those who need it most.