Articles
Know a Do Gooder in Brooklyn?
Are you or do you know an exceptional Brooklynite? Nominate him or her for a Brooklyn Do Gooder Award today.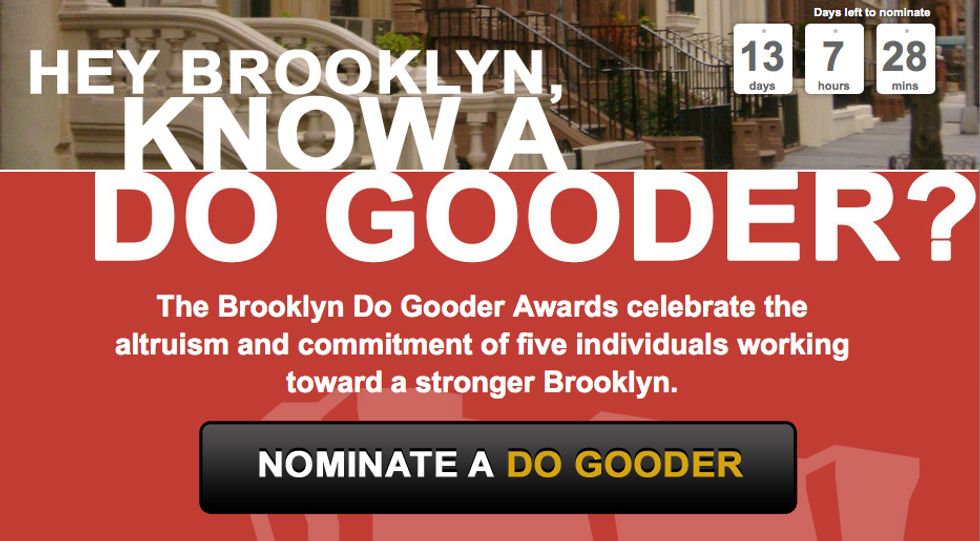 The
Brooklyn Community Foundation
has a simple slogan that we love and try to live: "Do Good Right Here." They know that you don't have to go to Haiti or Pakistan or any economically hard-up place in this country or abroad to make a positive impact. There's plenty of work to be done right in your neighborhood, wherever you are.
Since their neighborhood is Brooklyn, the BCF is celebrating the borough's best and most benevolent citizens in the "Brooklyn Do Gooder Awards." Anyone who embodies the "Do Good Right Here" motto is eligible. Anyone who "displays an outstanding sense of giving back locally—with their time, talent, or charity" should be nominated. There are five fields that these wonderful people can be nominated under—Arts for All, Caring Neighbors, Community Development, Education and Youth Achievement, and Green Communities—which reflect the Foundation's ongoing areas of interest..
---
Nominations are open for two more weeks, until September 30. Then there's a public voting period for a couple of weeks (we'll remind you), and then winners will be announced at the big annual Brooklyn Does Good celebration on November 3.
(Full disclosure: GOOD is a media sponsor of the contest, and yours truly is one of the judges.)
Winners will not only receive an awesome handcrafted award and be honored at the Brooklyn Does Good celebration on November 3, but the Foundation will also make a $5,000 donation to a charitable entity working in Brooklyn of his or her choice or to a Brooklyn Community Foundation Field of Interest Fund.
So, please, if you know someone doing good in Brooklyn, and we suspect many of you do, nominate them today.
Here's a video about Brooklyn Community Foundation's efforts beyond these awards:
[youtube]http://www.youtube.com/watch?v=t6LjxZ8FV1U&feature=player_embedded