Articles
The GOOD Lunch: Brussels Sprouts Salad with Spiced Pecans
The spiced nuts in this week's GOOD Lunch will take any salad to the next level, but taste great with roasted Brussels sprouts and goat cheese.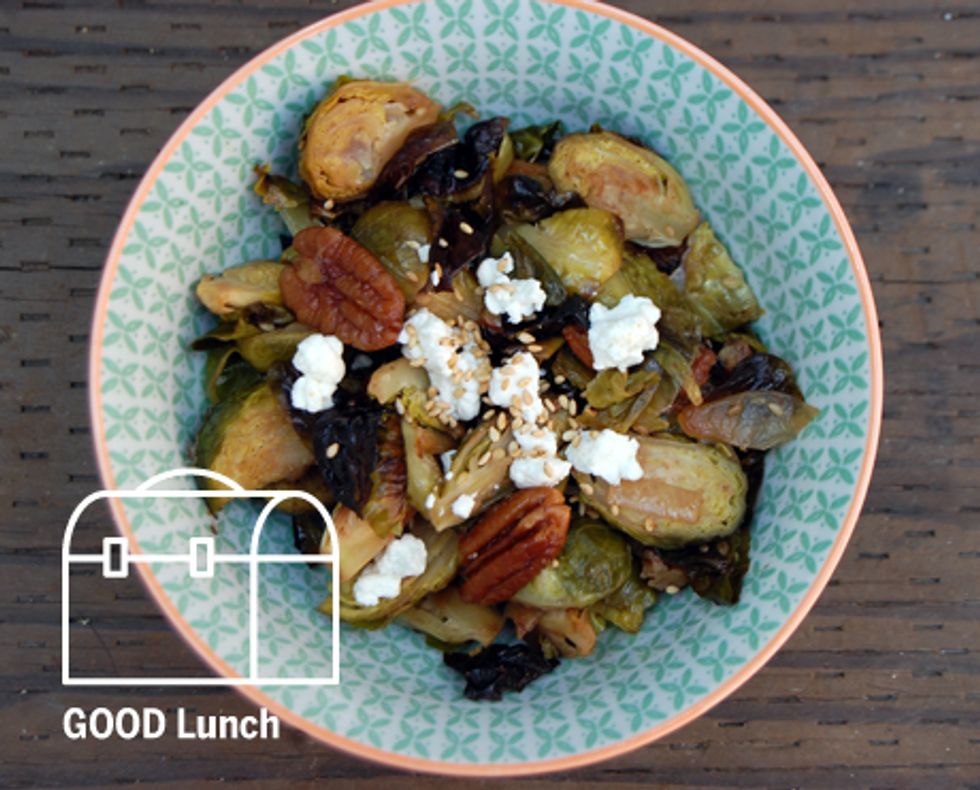 Today's
GOOD Lunch
salad was prepared by Chelsea Spann and adapted from
One Cake Two Cake Cooking Blog
.
Brussels Sprouts Salad with Spiced Pecans
---
The Ingredients:
Makes 10 servings
1 large bag/2 lbs brussels sprouts
1 yellow onion, chopped
1 1/2 cups pecans
2-3 cloves of garlic, minced
1 1/2 tablespoons vegetable oil
1 1/2 tablespoons sugar
1/4 teaspoon salt
olive oil
salt and pepper to taste

The Method:










• Preheat oven to 450°F.
• Cut the brussels sprouts in halves or quarters and toss with olive oil, salt and pepper.
• Simmer yellow onion with garlic and olive oil until browned.
• Add Brussels sprouts to the onion and garlic and mix together for about 5-10 minutes.
• Move the Brussels sprout and onion mixture to a baking sheet and roast for about 20 minutes, or until further browned.
• Meanwhile, mix the pecans with vegetable oil and sugar until the pecans are covered. Place onto a baking sheet lined with foil.
• Once the Brussels sprouts are roasted and tender, remove from the oven and set aside.
• Lower the heat to 325°F and toast the pecans for about 10-15 minutes. Remove pecans and let cool completely.
• Add the pecans to the Brussels sprouts, mix together and serve.
• Top with goat cheese for a cool and creamy contrast.

The Breakdown:
How did our salad rate in terms of taste, cost, and prep time?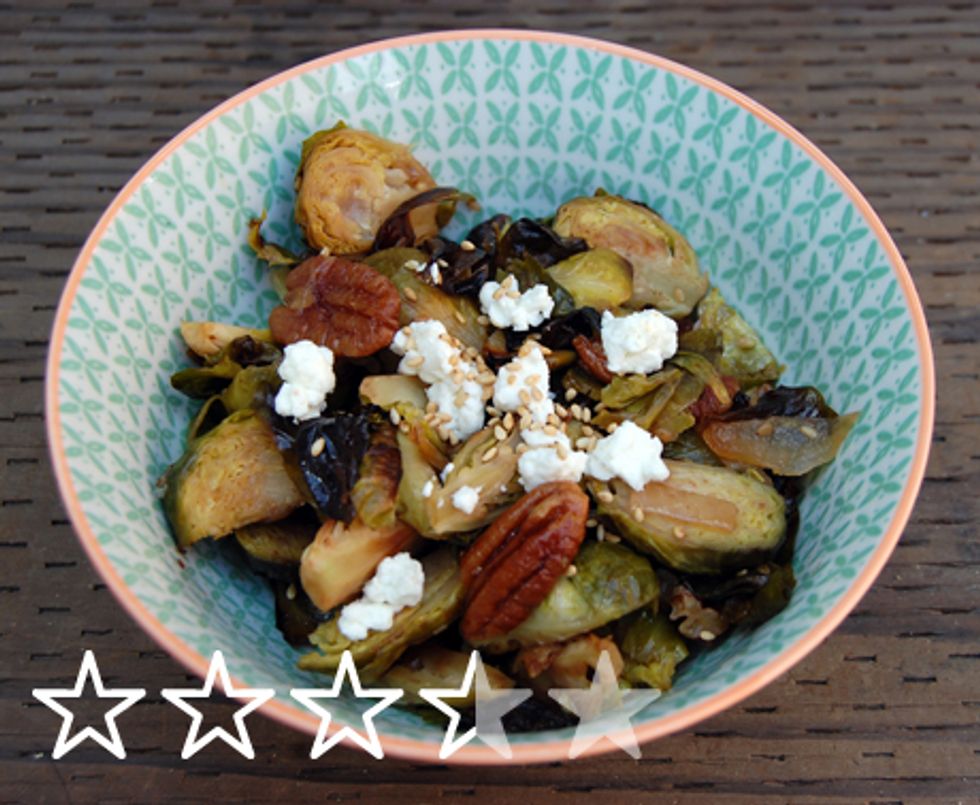 \n
Cost: $20 ($2.00 per serving)
Prep Time
: 10 minutes prep/40 minutes to cook
Taste
: 3.5 stars
This salad was so good it could be eaten as a main course for dinner! We chose to heat it up just a bit so that it was no longer cold. Adding cool goat cheese on top afterward made for a nice contrast. The spiced pecans were an unexpected twist and would be good in many different salads.
Every Tuesday and Thursday in 2011, the GOOD team is cooking and sharing a big bowl of healthy, vegetarian, seasonal soup or salad. This time last week we were enjoyed a big bowl of 4 star Feldsalat, with a salad dressing recipe handed down through 3 generations.