Articles
The GOOD Lunch: Sarah Stanley's Mom's Veggie Chili
Every Tuesday and Thursday in 2011, the GOOD team has pledged to take turns to cook and share a big bowl of soup or salad.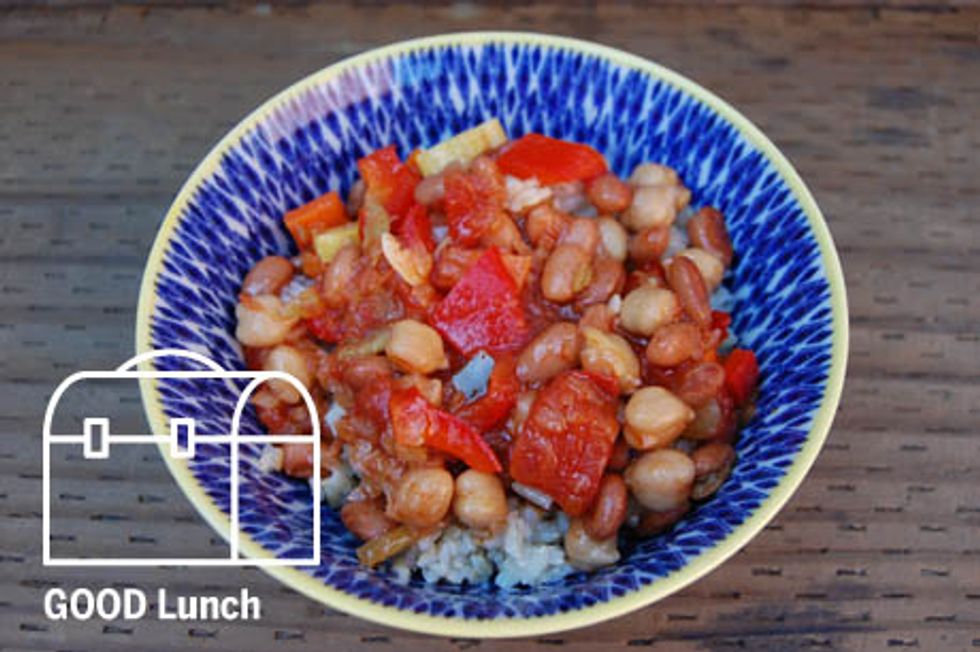 Today's soup was prepared by GOOD Team Chef Amanda Ehrman. The recipe was inspired by
Sarah Stanley's Veggie Chili recipe
from
GOOD's Fall Crowd-Sourced Cookbook
.
Sarah Stanley's Mom's Veggie ChiliThe Ingredients
:
2 yellow squash, chopped
2 medium peppers (I used red, but any color is fine)
1 cup chopped onion
4-6 chopped carrots
1 cup chopped celery (about 4 stalks)
4 garlic cloves, minced
4 tbs olive oil
30 oz diced tomatoes
15 oz zesty diced tomatoes
2 vegetable bouillon cubes
1-2 tsps ground cumin
30 oz garbanzo beans (2 cans)
30 oz chili beans
salt and pepper to taste
2 cups brown rice (separate, optional)
The Method
:
• Heat minced garlic in the oil until it starts to sizzle (but not burn)
• Add in squash, pepper, onion, carrots, and celery and saute until soft
• Add in all diced and zesty diced tomatoes and stir
• Stir in cumin and a bit of salt and pepper and bring everything to a boil
• Reduce heat and simmer uncovered for 30 minutes, stirring occasionally.
• Add garbanzo and chili beans and continue to heat
The Breakdown
:
How did our soup rate in terms of taste, cost, and prep time?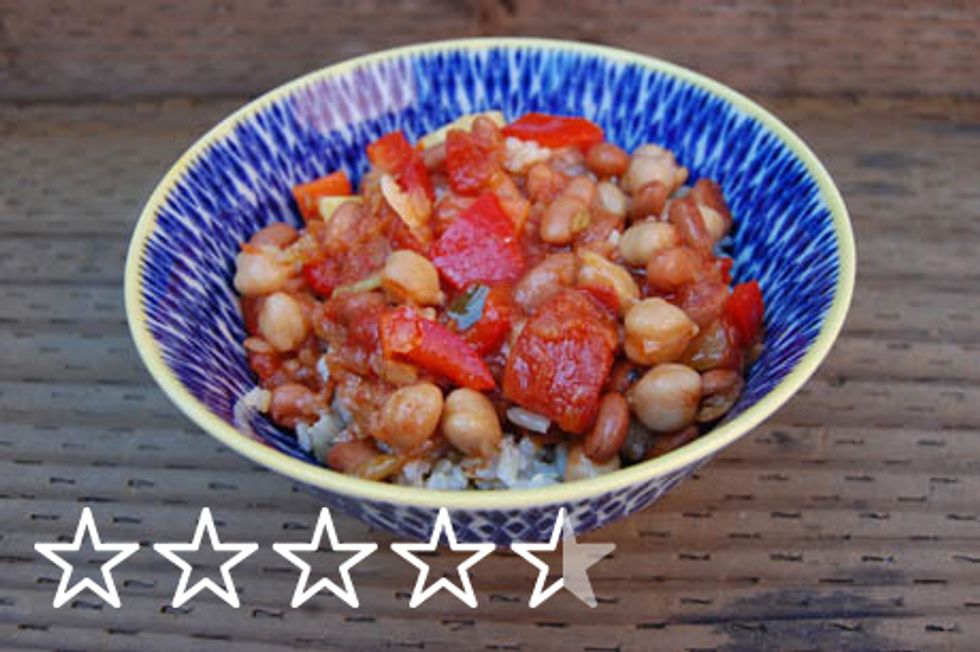 ---
Cost
: $25
Prep Time
: 75+ minutes prep
Taste
: 4.5 stars
I changed Sarah's recipe a bit (I used squash instead of zucchini, and I did not add soy sauce) but her Mom's Veggie Chili is awesome! The trick with chili is, the more time all of the ingredients have to simmer together, the better. I had a little over an hour to make this recipe before work, but if you can make it the night before and let it simmer on the stove, I think it will only get better with time. I complemented the chili by making it each bowl over a bed of brown rice. I recommend adding a starch to eat with all of those veggies.
Thanks Sarah for contributing to
GOOD"s Crowdsourced Cookbook
and
The GOOD Lunch
!
Every Tuesday and Thursday this year, the GOOD team will cook and share a big bowl of healthy, vegetarian, seasonal soup or salad. We hope this will inspire you to make your office lunch a GOOD Lunch. This time last week we were enjoying Potato Leek Soup.