Articles
The GOOD Lunch: West African Peanut Soup
Peanut butter in a soup? Really? Believe us: It was delicious!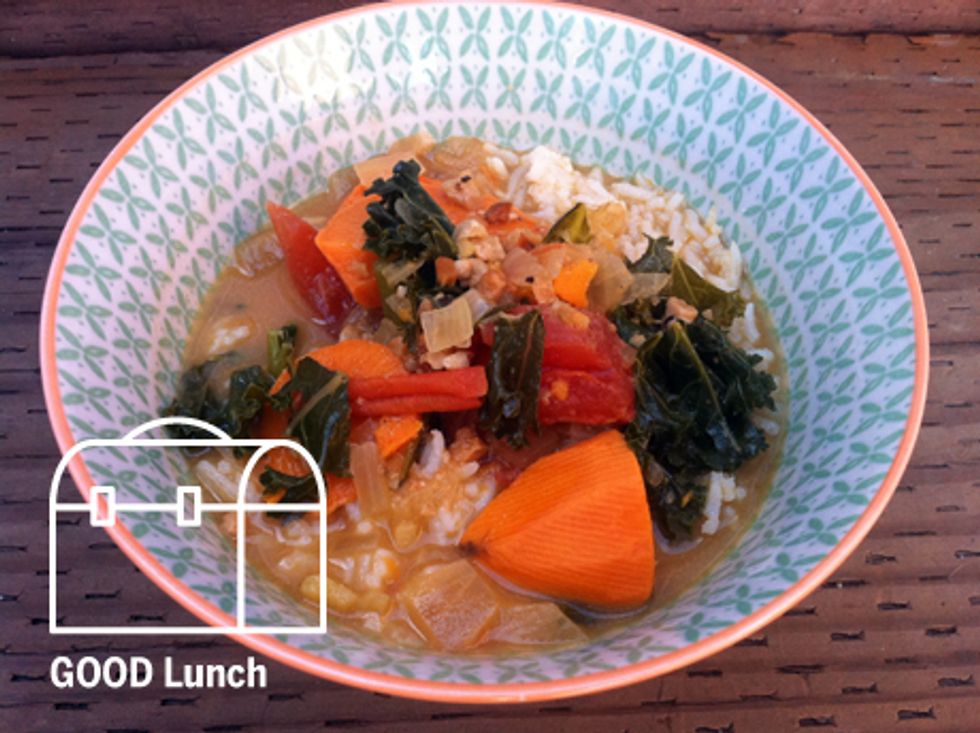 Today's
GOOD Lunch
soup was prepared by Zak Stone and adapted from a recipe in
The New York Times
(we took out the chicken).
West African Peanut Soup
---
Makes 8 servings
The Ingredients:
1 ½ cups roasted and shelled peanuts
4 tablespoons peanut oil (okay to substitute with grapeseed oil)
2 medium red or white onions, chopped
12 cups vegetable stock or water
4 sweet potatoes or yams, peeled and cut into thick slices
8 plum tomatoes, cored and halved (canned are fine; drain and reserve liquid for another use)
1 pound collards or kale, washed and cut into wide ribbons
1/2 cup peanut butter, chunky or smooth.
2 tablespoons minced fresh ginger
Pinch of cayenne
2 tablespoons minced garlic
Salt and freshly ground black pepper to taste











The Method:
• Chop peanuts, or crush them with the side of a knife, or pulse them in a food processor to chop roughly.
• Put oil in a deep skillet or medium saucepan over medium heat. Add onion, ginger, and garlic and cook, stirring occasionally, until onion is soft, about 5 minutes.
• Add 1/2 cup peanuts and the cayenne and sprinkle with salt and pepper.
• Stir in the stock/water and the sweet potatoes, bring to a boil, and turn heat down to medium-low so the soup bubbles gently.
• Stir in tomatoes and collards, then cook, stirring occasionally, about 10 minutes.
• Stir in 1/2 cup peanut butter.
• Taste, adjust seasoning (you may want to add more peanut butter at this point) and serve, garnished with remaining peanuts.






The Breakdown:
How did our soup rate in terms of taste and cost and prep time?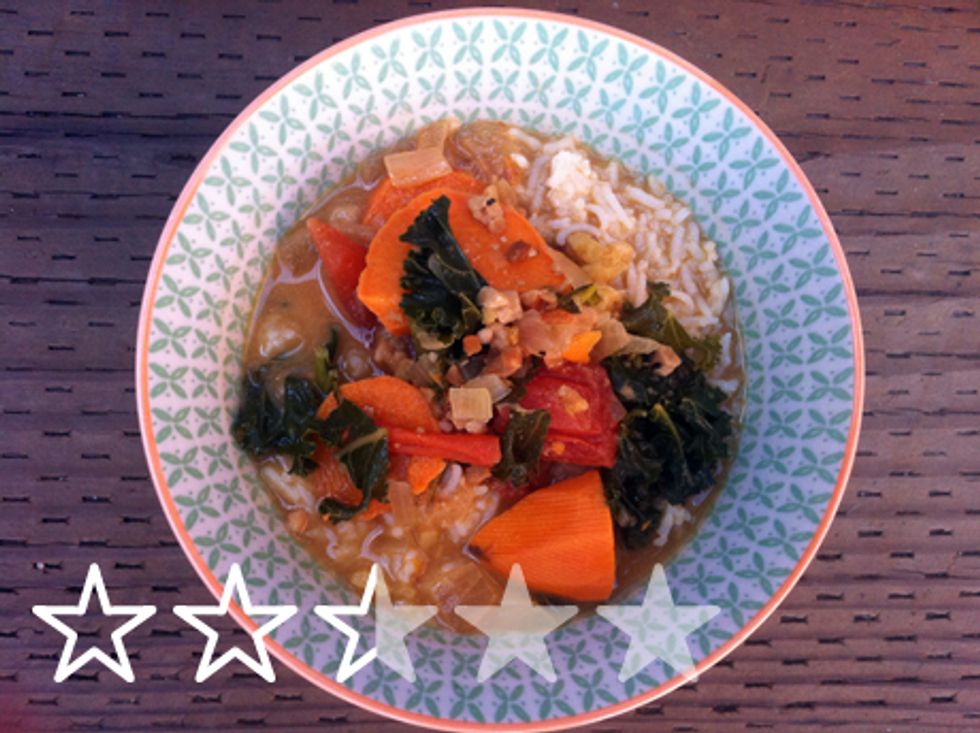 Cost
: $22 ($2.75 per serving)
Prep Time
: 1.5 hours
Taste
: 2.5 stars
The peanuts created an unexpected and pleasant sweetness to the otherwise veggie-heavy hearty soup. Be sure to chop the large and soft vegetables (sweet potatoes, tomatoes) into small sizes to allow for a full spoonful of flavor in every bite!
Every Tuesday and Thursday in 2011, the GOOD team is cooking and sharing a big bowl of healthy, vegetarian, seasonal soup or salad. This time last week we were enjoyed an easy 3 star Lentil Soup. Leave us a note in the comments if you have any suggestions for next week's soup—we'd appreciate any ideas, especially as we edge into spring and warmer weather.