Articles
To Make Logging Legal, Liberia Will Give Every Tree a Barcode
President Ellen Johnson Sirleaf has signed a deal with the European Union that would make every piece of Liberian lumber traceable to a stump.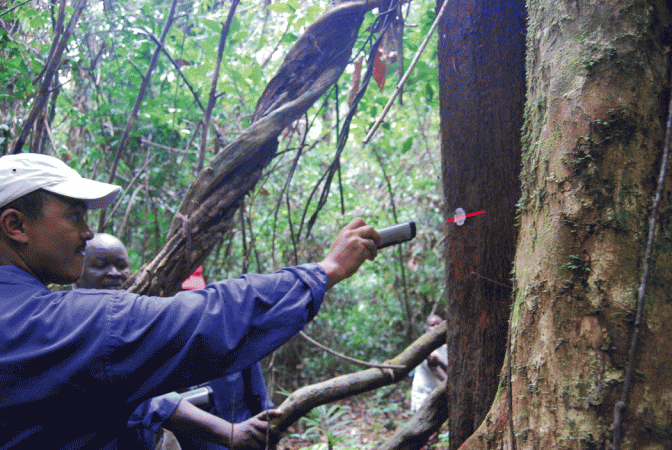 The African country of Liberia is blessed with lush rainforests full of pygmy hippos, Diana monkeys, duikers, and lots of valuable trees. But when Charles Taylor started plundering the forests to fund his forces in the country's civil war, the UN placed sanctions on Liberian timber.
---
Now President Ellen Johnson Sirleaf wants to establish a legitimate timber trade to boost the Liberian economy. To that end, she has signed a deal with the European Union that would require companies bringing Liberian lumber into the EU to have proof that it's legal. To make that possible, every legally harvestable tree and every cut log would have to carry a barcode that makes it traceable. Helveta, a British company that specializes in timber supply chain management, has invented the tracking system.
Even with the barcodes, there will still be challenges. Making sure harvests stay within sustainable limits will be difficult and corruption may still undermine the integrity of the system. But some think Liberia could be pioneering a new model for legal, sustainable logging. According to Frank Hawkins, who leads Conservation International's efforts in Africa, "Liberia has an opportunity to show the world how it is done."
The barcode, that symbol of commercialism, could become a treehugger's best friend.