Instagram model raises over $700,000 for Australia's wildfires by trading donations for nudes
01.09.20
Hundreds of wildfires have brought historic levels of devastation to Australia. Over 25 people have been killed in the blazes and the damage done to the country's environment and wildlife is unimaginable.

"The number of cattle and sheep killed is still being tallied, but the losses are expected to be enormous," NPR's Jason Beaubien reports. "And the death toll among wild animals is even worse. An ecologist at Sydney University estimates that nearly half a billion animals perished in the state of New South Wales alone."
---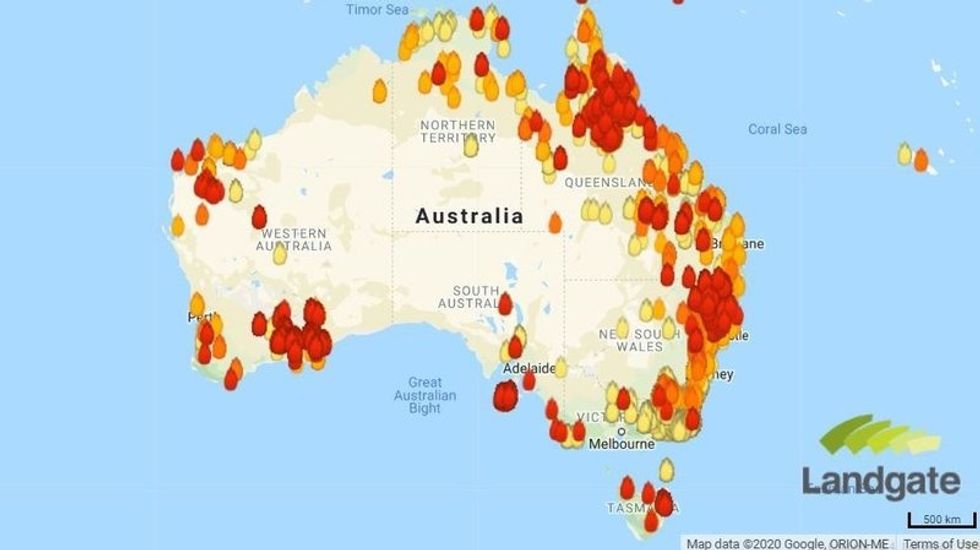 Los Angeles Instagram model and online sex worker Kaylen Ward, 20, was devastated by the news out of Australia so she decided to raise money the same way she makes it normally, by taking her clothes off.

"I was seeing all the posts on Twitter about the Australian fires and I was really concerned there wasn't a lot of media coverage and not a lot of people donating," she told BuzzFeed News.
So on January 3, she sent out a tweet saying that she'll send a nude photo of herself to anyone who donates $10 or more to an organization helping relief efforts, including NSW Rural Fire Service, Victorian Country Fire Service, Red Cross, and certain koala hospitals across Australia.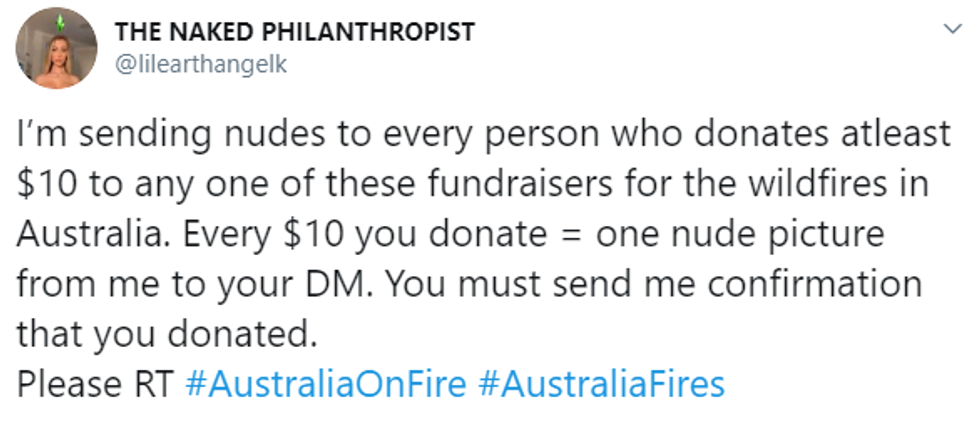 via Kaylen Ward / Twitter
The tweet quickly went viral and Ward's inbox was inundated with messages from people who donated to one of the charities.

"I was expecting to raise maybe $1,000, but the tweet blew up," she said.
One donor was incredibly generous. "Someone sent me $5,000, so I'm sending 50 pics and videos," she said according to The Daily Mail.
As of Sunday, Ward claims her campaign has raised over $700,000 for the wildfires.

Unfortunately, Ward's brave philanthropic endeavor has caused her a bit of trouble. Her Instagram account was revoked because of the campaign.
"This account was disabled for violating our policies. Offering nude images is not allowed on Instagram," a Facebook spokesperson told BuzzFeed News.
She says that her offering of nude photos has caused problems with her personal life. However, she's not going to stop because she's doing the right thing for the koalas.
Although the campaign has caused her some personal problems, people on Twitter are praising her for doing what she can to help the wildfires.
Ward's campaign is a great way of showing that we all have unique talents that we can use to help when disaster strikes. There's nothing wrong with anyone selling photos of their body as long as it's their decision. Especially when the photos are being used to help a desperate situation across the globe.

The Planet