Politics
What are Trump's plans for a second term? He couldn't even explain them to Sean Hannity.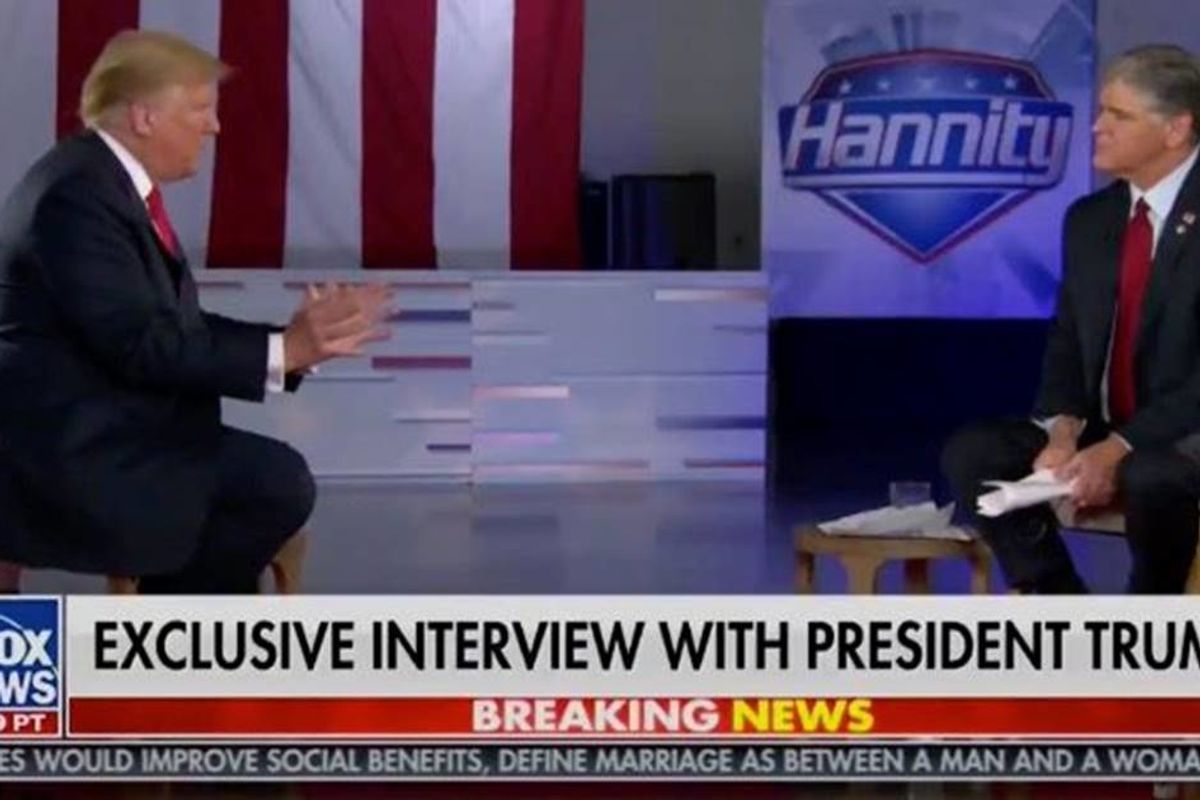 via Republicans for Joe Biden / Twitter
For the second time in two weeks, President Trump was a guest on Sean Hannity's show on Fox News.
At the end of the interview, Hannity asked him a simple question that any candidate should be able to knock out of the park. "What's at stake in this election as you compare and contrast?" Hannity asked. "And what is — what are your top priority items for a second term?"
A politician running for office's number one job is to be able to rattle off their agenda, but Trump fumbled his way through the question like it was the first time he had considered it.
"Well, one of the things that will be really great," Trump replied. "You know, the word 'experience' is still good. I always say talent is more important than experience. I've always said that. But the word 'experience' is a very important word. It's an — a very important meaning.
---
When asked what his priorities for a second term, Trump can't come up with one. Notice how Sean Hannity trying to h… https://t.co/pTP4MIp5yh

— Republicans for Joe Biden (@Republicans for Joe Biden) 1593174950.0
"I never did this before," he continued. "I never slept over in Washington. I was in Washington, I think, 17 times. All of a sudden I'm president of the United States. You know the story of riding down Pennsylvania Avenue with our first lady and I say, 'This is great,' " he continued, "but I didn't know very many people in Washington. It wasn't my thing. I was from Manhattan, from New York.

"Now I know everybody," he said. "And I have great people in the administration. You make some mistakes like, you know, an idiot like [former national security adviser John] Bolton; all he wanted to do is drop bombs on everybody. You don't have to drop bombs on everybody. You don't have to kill people."
So his major selling point is that he entered office with zero experience or relationships in Washington, D.C. and now he has some? It's pretty self-absorbed and irrelevant answer to give to a country that going through three generational crises.
It also shows that he has little competitive advantage over Joe Biden who spent eight years as vice president and 26 years as a senator.
Trump couldn't articulate a plan for dealing with the pandemic or the economic destruction it's caused. He didn't mention the civil unrest caused by social injustice or the devastation being caused by climate change.
Healthcare is a pretty big problem, too.
But it wasn't just a bad answer to an easy question. It goes deeper. His campaign website doesn't have any agenda for a second term, just a lot of backward-looking information about his presidency under the tab "Promises Kept."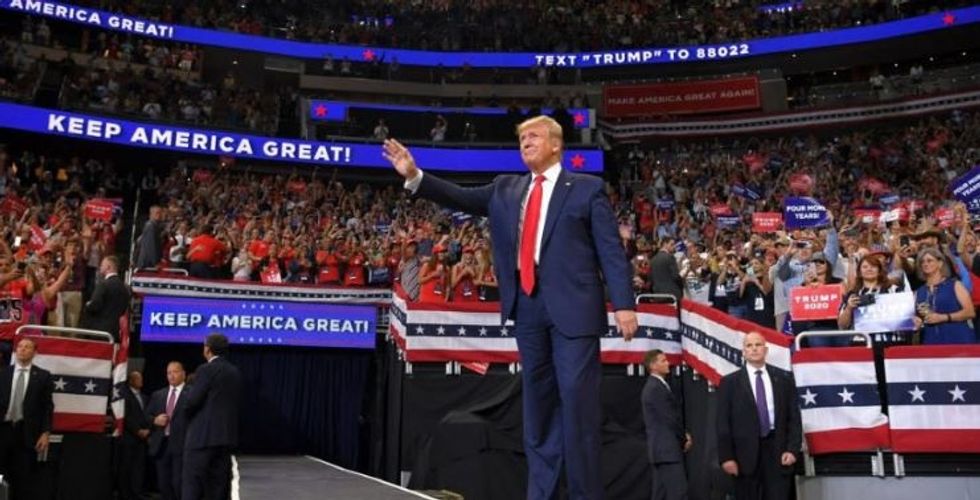 via Michael 1952 / Flickr
Joe Biden's website has a tab that says "Joe's Vision for America" that lists a specific agenda for dozens of issues including COVID-19, supporting small business and essential workers during the pandemic, and a plan for Black America.

At a recent campaign rally in Tulsa, Oklahoma, Trump did touch on a few vague agenda items for a second term.
"A vote for Republicans is a vote for better schools, better jobs, safer families and stronger communities for all Americans," he said, "There is no limit to what we can together achieve with four more years."
"With your help, we will lift millions of our citizens from welfare to work, dependence to independence, and poverty to prosperity," he continued.
"We will protect Medicare and Social Security for our great seniors, and we'll always protect patients with preexisting conditions, always, always," he said.
His promise to protect Americans with pre-existing conditions is a big lie. On Thursday, the Trump Administration filed a brief with the Supreme Court asking it to strike down the Affordable Care Act (aka Obamacare) which would eliminate coverage for 20 million Americans and pre-existing condition protections.
Back in May, he claimed that he promised to "replace Obamacare with great health care at a lesser price, and preexisting conditions will be included and you won't have the individual mandate" But no suitable plan that would achieve that goal has ever materialized.
Anyone who was serious about making or, as he says now, keeping America great would have some plan to get there. Instead, we have a president who cares more about petty grievances than addressing the serious problems affecting Americans of every walk of life.
Trump is asleep at the wheel at a time when America is about to drive of an economic and cultural cliff.