Articles
Tables to Change the World: An Interview with Michael Hebb
Michael Hebb tells us how he plans to use the table—our most important cultural site—to create a vision of the food system we want in 2040.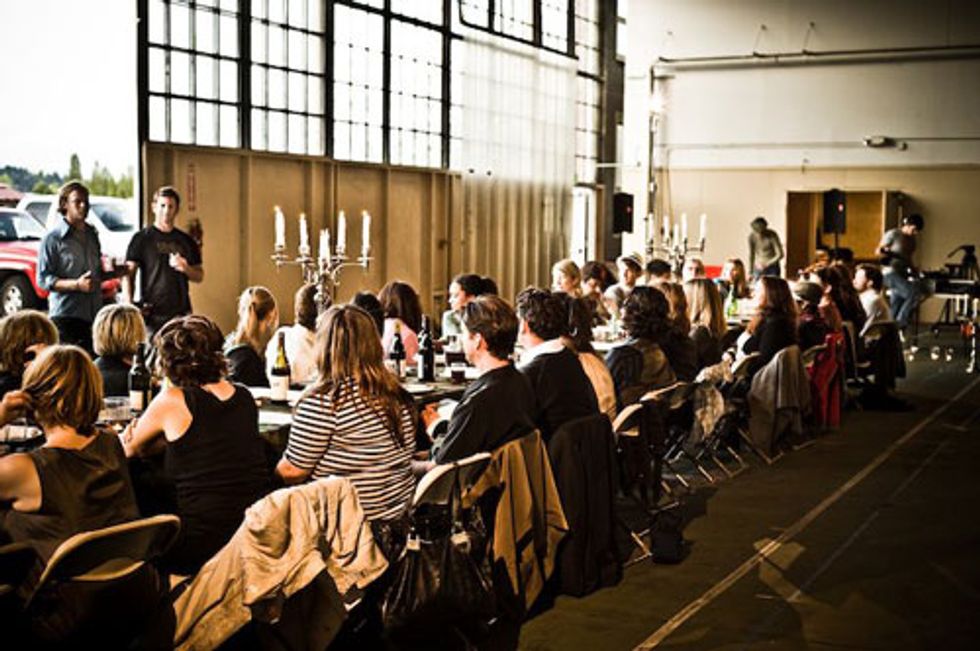 Last week,
we announced our exciting new partnership with the 30 Project
, a movement to create a long-term vision for food system change and build an alliance of committed people, organizations, and businesses that, together, can make that vision a reality.
With the 30 Project launch dinner taking place in San Francisco on March 6, we decided to catch up with the man in charge of planning the meal. Michael Hebb is a long-time believer in the idea that having dinner can change the world. In fact, he believes that the table—the place where people come together to share food—is our society's most important cultural site.
---
As he discusses in his TED talk and our interview, below, the table is a space with a long history of bringing people together and inspiring critical dialogue, open-ended inquiry, and action. Hebb's own table-making adventures have taken him all over the world, from coffee farms in Guatemala to the central median of I-5—and now to 30 cities across the US, where he will face his toughest challenge so far: inspiring a productive conversation about the future of the food system.
We talked about why the table matters and how to use its power to create positive change. Watch his TED talk and read our conversation below.
[youtube]http://www.youtube.com/watch?v=Z-920dKlYUU&feature=BF&list=SPED2FC89AE6EFE8F8&index=1
GOOD: How did you get involved in the 30 Project?
Michael Hebb: I met Ellen at a dinner that I was throwing as part of Summit Series in DC. I was excited about the work that she had already done with the Feed Foundation and the work that she was talking about doing with the 30 Project. I posited the idea that if she was going to talk revolutionizing the global food system, then the dinner table was the perfect place—maybe the only place—to do it.
GOOD: What are the particular dinners or dining rituals that inspire you?
Hebb: One of the table rituals that has been enduring and, I think, very effective, is the Seder. I don't see it so much as a religious dinner as I do as a dinner where people recall their history. It's an annual reminder to remember where we came from and what's important and the notion of liberation. It's both symbolic and embodied, and to me it is a time-tested, beautifully honed, and flexible, mutable ritual that is a constant form of inspiration.
Nowadays, there are so few working models for gathering people together around food. You can make a reservation at a restaurant or freak out about Thanksgiving Dinner. It's terrifying because we have gone so far away from convening in interesting ways, but it's also pretty exciting to have that open terrain to work within.
One of the core ideas that I keep coming back to is the notion that scale isn't anywhere near as important as our culture would have us believe. There's a huge emphasis on numbers today—how many Twitter followers you have, or how many unique visitors and Facebook friends. And with projects or new businesses, all people want to know is whether your idea is scalable. I think that the unique thing about gathering people around a table is that it has a very finite scale and you have to rely on a much older sense of how the world can shift—the idea that committed people getting together and talking passionately about things that they're actually interested in can change the world.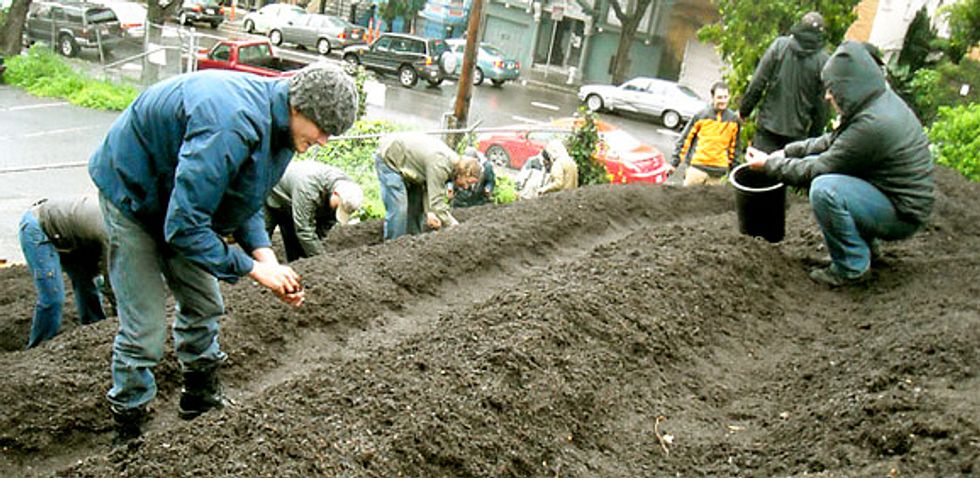 GOOD: What goes into your planning process for a dinner? What are the kinds of things that you think about when you are bringing people together around a table.

Hebb: There are always the straightforward pragmatic considerations like location and timing and what the site is like and lighting and how we're going to serve the food—you have to go through all of those decisions. I think of it as an architectural process—there are a lot of programmatic considerations to work through but the underpinnings, or the things you're trying to accomplish, are more phenomenological or philosophical.


With a lot of dinners, what I want to do is engage people way before they arrive. That's something that I think is very important, especially when there isn't this sense of ritual in our culture. When people arrive at a Seder dinner or another kind of traditional feast, they arrive in a kind of premeditated, expectant sort of way. Most dinner parties and food experiences that we host nowadays don't really have that sense of anticipation or preparation.
The other thing that's really important to me is the notion of reciprocity. I'm asking people to show up at dinner as an active, embodied participant, not a spectator.

As an example, I've been working with the Potomac Conservancy, and they wanted to gather some leading philanthropists and expand their understanding and interaction with the river. So I gave them all an assignment. They received very beautiful apothecary bottles and beautiful, letterpress-printed maps of historic events along the Potomac, and their instructions were to fetch water from the Potomac. They were pretty high-level policymakers and philanthropists—not the type that you'd expect to get their shoes wet filling a bottle with water. But every single person who came had filled a water bottle.


That preparation meant that rather than the usual kind of fundraising dinner where the director talks about how important the work is, the guests actually spent the entire evening talking about their own personal experience interacting with the Potomac.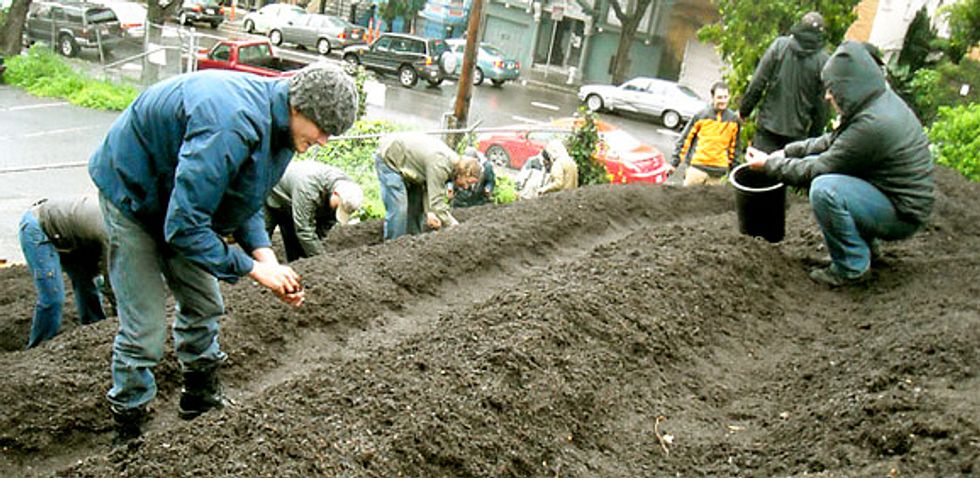 GOOD
:
What kind of preparation are you putting into the first 30 Project dinner at Hayes Valley Farm?
Hebb: For the first 30 Project dinner, I saw the opportunity to leave something powerful behind and to draw attention to a really important site and group of people that embody the type of thinking and the type of actions that we're going to need in order to reverse and heal what has happened in our food system in the last 30 years.
The site is amazing: It's this central point in San Francisco—a former freeway ramp that was covered in asphalt and is now covered with soil. Bringing together the city's food leaders to that space is immediately provocative and interesting.
For the 30 different 30 Project dinners, we want to put our tables either in locations that epitomize a sort of solution and are pretty hopeful, or in fairly intense sites that emphasize the harm that's been done in the last 30 years. The big goal is to provoke people across the board from industrial food to local farmers to consider what they want the food system to look like 30 years from now.
Obviousy, we're going to learn from the first one. Maybe as we go forward, we'll get more upfront with homework assignments. But I think that, at the basic level, when you cook for somebody and you invite them into your home, you set up an obligation and you make dinner, in a way, into a promise for the future. And you can also push that reciprocity into the forefront and say, come into my home but do this before you come, and earn your seat at the table. Either way, gathering at the table ends up being this great engine for inspiring action.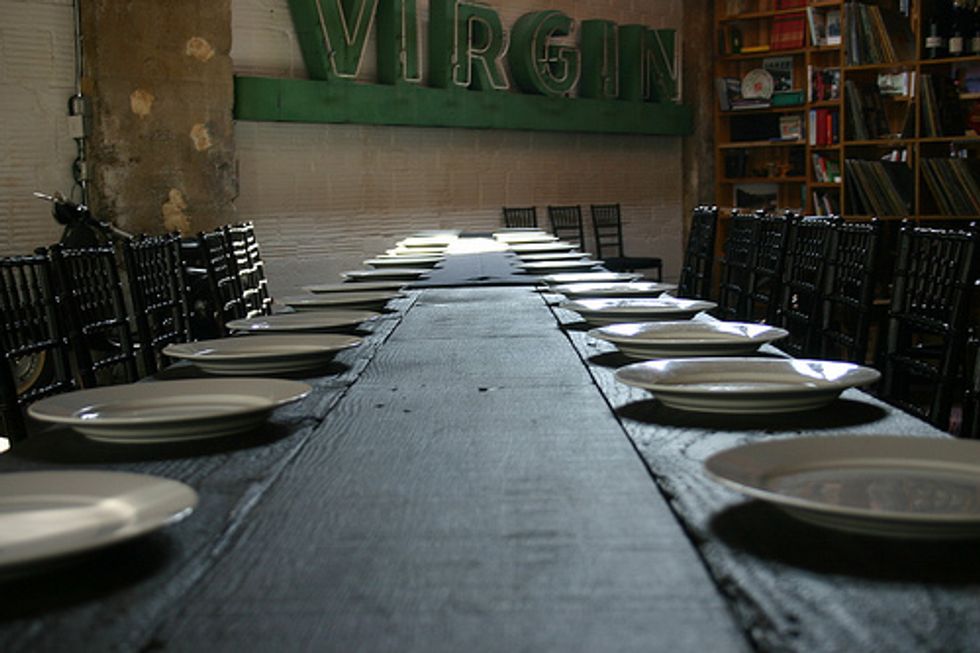 GOOD: What's interesting to me about the 30 Project dinners is that you're asking people to talk about a system, which is a big, amorphous, hard-to-understand thing. And you're also asking people to talk about time. Thirty years is not impossible to picture but it can definitely be a difficult amount of time to see forward, if not backward. What are the sorts of tools that you can use to help people grapple with these two otherwise quite intangible things?

Hebb: Well, the nice thing about dinner is people are already involved in the solution—they're talking together while eating local, sustainable food. It's not a think-tank; this ball's already rolling.


I think we're going to find more similarities than differences. People who are striving to end hunger and people who are campaigning for environmental sustainability ultimately both want nutritious, accessible food that doesn't harm the planet or the people on it. Having that conversation around dinner takes it out of the realm of some unreachable, unattainable concept and makes it into something that is already happening.
Of course, the big idea is that each one of the thirty dinners we do inspires another thirty-thousand or more dinners, as people around the county gather around the table and talk about what they want a healthy food system to look like.

The dinners are also a way to make a huge number of people into active participants in food system change. The idea is that by the time the Farm Bill rolls around in 2012, we aren't saying to people "Get involved!"—because they already are involved.

GOOD: How do you bring that idea of dining with purpose into your everyday life? Are there small things that you and I can do on an everyday basis to tap into the power of sharing food at the table?

Hebb: I just think that the more people come across the idea that you can do amazing things when you gather people around a table, the more people will think up interesting and powerful ways to activate it. For me, it comes back to the idea that, at a very deep level, culture actually originates from gathering around food. The height at which you cook meat over an open fire is roughly 30 inches, which is roughly table height. I think that makes eating together in shared space is a really important cultural myth—not a myth in the untrue or fanciful sense, but a myth in the sense that it's an important building block for humanity to have around and use.

You can read 30 Project founder Ellen Gustafson's introduction here. Meanwhile, keep watching this space as the project launches and we ask you to get involved!








Photos: (1) and (2) Songs for Eating and Drinking by Chase Jarvis and Michael Hebb; (3) Hayes Valley Farm; (4) One Pot and Foodista Dinner.