Politics
'Greatest campaign ad ever': Lindsey Graham praises Biden while calling Trump a 'bigot'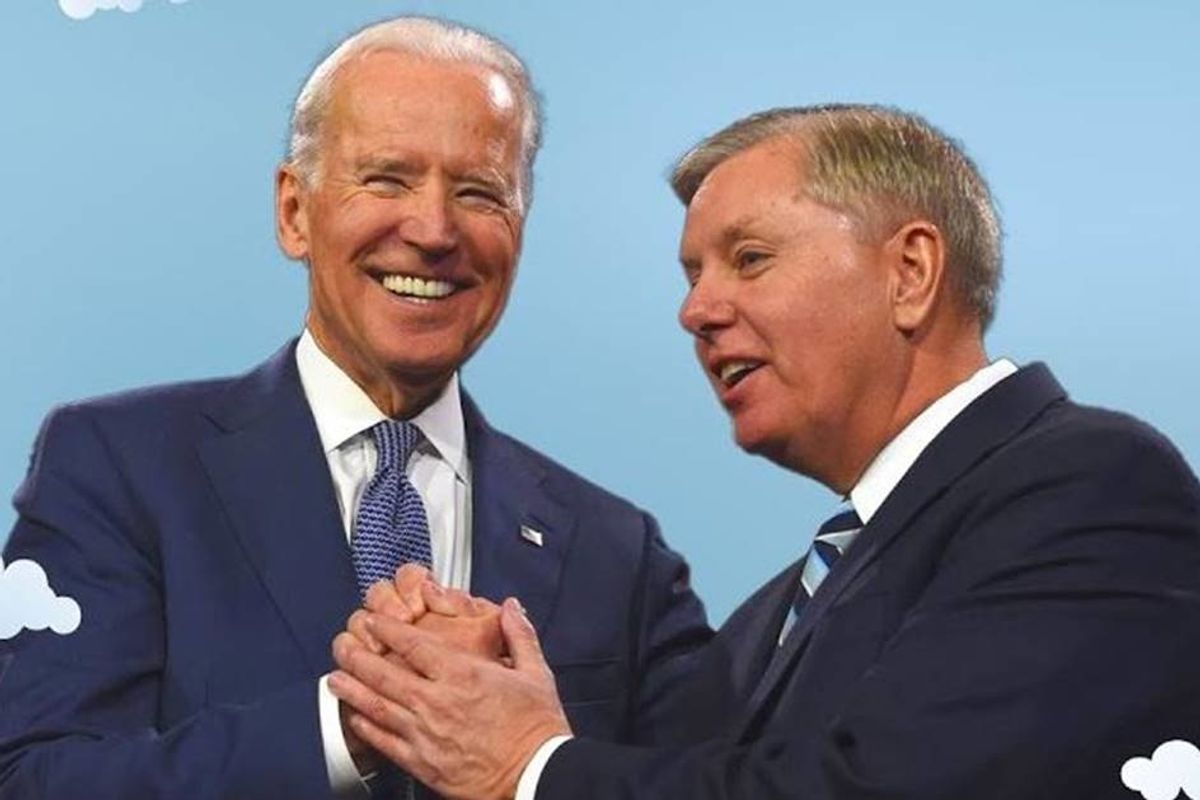 via Reoublicans Against Trump / Twitter
A new campaign ad produced by Republican Voters Against Trump uses GOP senator Lindsey Graham's (R-SC) own words to make a compelling case for voting for Democrat Joe Biden over Donald Trump. In fact, Harvard economics professor Greg Mankiw calledit "perhaps the greatest campaign ad ever."
Republican Voters Against Trump is a new coalition of Republicans, or former ones, who are against voting for Trump this fall for his second term. The project's goal is to amplify the voices of this critical voting block in the 2020 election.
---
The video opens with a clip from 2015 where Graham, a three-term Republican senator from South Carolina, is asked the following: "What is Donald Trump's campaign about?"
"He's a race-baiting, xenophobic religious bigot," Graham response in the clip, adding, "You know how you make America great again? Tell Donald Trump to go to Hell."
The ad then shows Graham effusively praising Joe Biden, his former colleague in the senate.
"If you can't admire Joe Biden as a person, you've got a problem. You need to do some self-evaluation, 'cause, what's not to like?" Graham says, calling Biden "as good a man as God ever created."
"He's said some of the most incredibly heartfelt things that anybody could ever say to me. He's the nicest person I think I've ever met in politics," Graham says.
AD: Lindsey Graham Loves Joe Bidenwww.youtube.com
The ad concludes with an unsettling photo of Donald Trump awkwardly holding a Bible in front of St John's Church in Washington, D.C. from earlier this month. Trump ordered the military to clear the streets from the White House to the church for the photo op. Then federal law enforcement used pepper spray to clear protesters on the president's route.
The ad is scheduled to run on Fox News on Graham's home turf in South Carolina while also appearing on the network in Washington, D.C., where it'll most likely be seen by the president. The ad shows how political pressure from the Republican Party has compromised Graham's views over the past five years. In 2015, Graham railed against Trump's candidacy. But after Trump won, Graham did an about-face and became one of his fiercest defenders. Graham's public flip-flopping on the president has been one of the most egregious displays of cowardice in the Trump era.
Graham had a fallout with Biden and his wife, Jill, during the 2019 impeachment of Donald Trump. Graham sided with fellow Republicans in calling for an investigation into Joe Biden and his son Hunter.
"We used to be great friends... And now he's changed," says Jill Biden, wife of Joe Biden, about Sen. Lindsey Graha… https://t.co/89gOvo5WGb

— New Day (@New Day) 1580734316.0
"I don't know what happened to Lindsey," Jill Biden said on CNN's New Day.

"We used to be great friends," she said of Graham. "I mean, we traveled together with the Foreign Relations Committee, we had dinner, you know. … And now he's changed," she said.
The new Republicans Against Trump ad is proof that Graham sure has changed over the past five years, begging the question: Where does he really stand? Given what we've seen from Trump and Biden over the past five years, it's pretty clear that Graham had it right the first time.