Sports
The messages from athletes, coaches, and sponsors are remarkably consistent
Since President Trump enacted his travel ban against seven countries via executive order, the world has been quick to respond via protests, contributions, and social media discourse. Athletes, from both America and abroad, have joined in the fight leveraging their platforms and celebrity. They've not only shared their opinions on the matter, but also stories about how the immigration and travel restrictions affect them, their families, and their peers.
If the sampling of athletes represented on social media is any indication, the responses have ranged from confusion to fear to anger. There very well may be athletes who stand by the executive order and the policy it represents, but those who support the measure don't appear to be sharing their sentiment via social media.
---
Olympian runner Mo Farah, who resides with his family in Oregon after migrating from his homeland of Somalia to Britain, took to Facebook to share his current struggle to re-enter the United States and his feelings on the matter:
Kyle Lowry, a guard for the Toronto Raptors, offered up a statement that was no less passionate, but much more succinct, call the ban "bullshit" repeatedly.
UFC star Ronda Rousey, who recently joined denizens of the Standing Rock protest camp, offered up a political cartoon with the prevalent hashtag #resist.
Michael Bradley, the captain of the US Men's National Soccer Team, expounded on earlier expressions of disappointment with this recent one:
Steve Kerr is the champion coach of the Golden State Warriors and also a victim of terrorists, who assassinated his father, the president of the American University in Beirut, in 1984, made clear his position in no uncertain words.
"I would just say as someone who has a family member who was a victim of terrorism, having lost my father, if we're trying to combat terrorism by banishing people by coming from this country, we're really going against the principles of what this country is about."
NBA players and coaches are among the most vocal on the issue.
Former NBA player Nazr Mohammed offered his thoughts on the revelation surrounding the ban.
Oklahoma City Thunder center Enes Kanter, born in Switzerland to Turkish parents, offered up several tweets that shared his thoughts on the matter.
Ibtihaj Muhammad came to notoriety this past summer as the first American athlete to compete in the Olympics while wearing a hijab.
Even Dale Earnhardt Jr., a NASCAR driver whose following and fan base hails from predominately "red" states, spoke out on the issue.
WNBA player Breanna Stewart took these pictures from the protest rally at LAX, where several immigrants were being detained.
Two-time NBA MVP and Canadian citizen Steve Nash offered words of support for the dissenters.
Jeremy Lin, an American-born NBA player of Asian descent echoed the sentiments of many with a #teamaclu hashtag.
Kenneth Faried, a forward for the Denver Nuggets, spoke up, offering expression "Astaghfirullah!" an Arabic term that begs forgiveness for "they know not what they do."
Finally, both Nike, an American company, and Adidas, a German company, have spoken out in no uncertain words against the ban.
Here's the letter Nike circulated internally to its employees: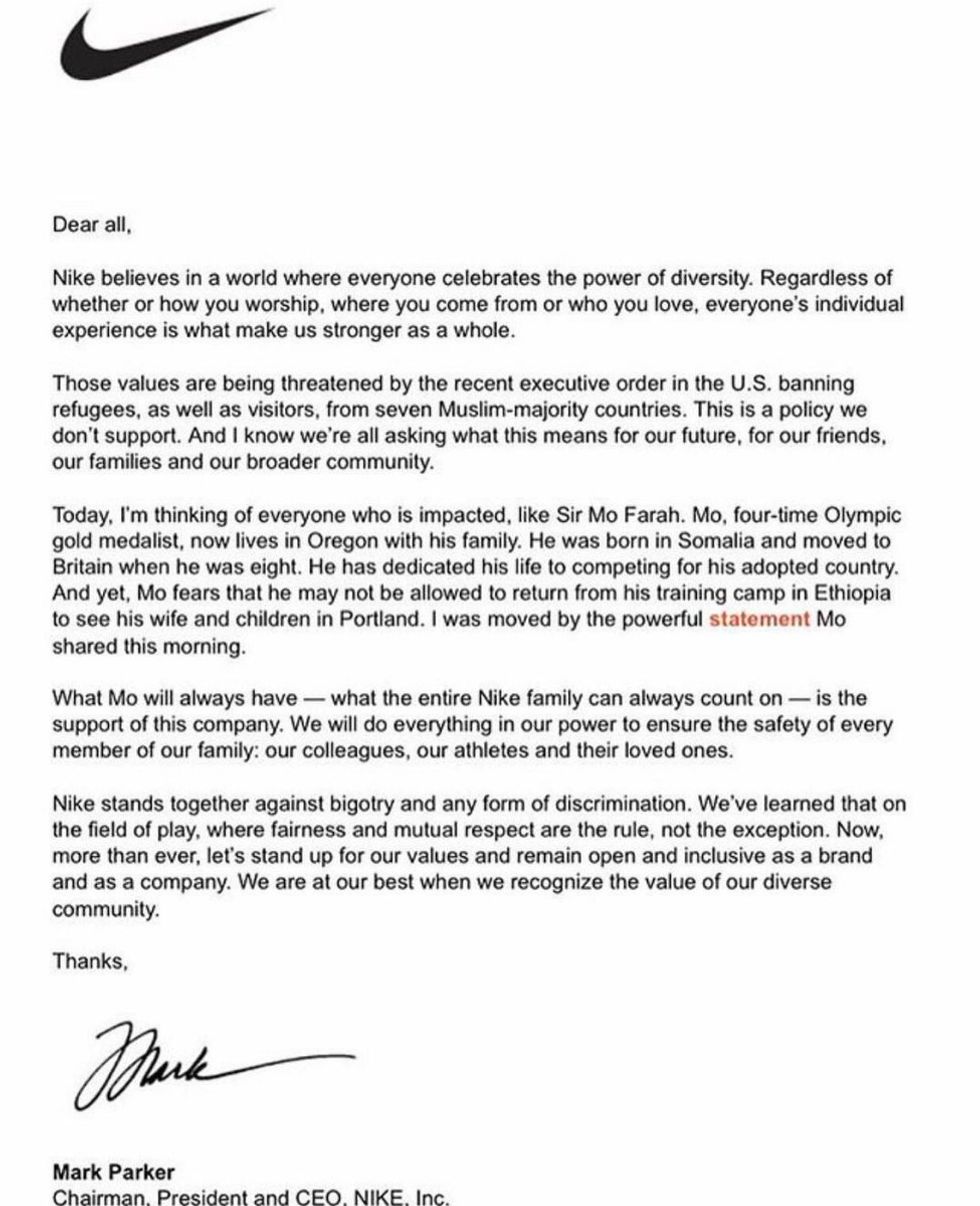 Adidas' internal statement takes a similar stance:
"Our company is built on the core belief that 'Through sport, we have the power to change lives.' Sport has shown in the past and will show over and over again in the future that it can bring people together from all over the ​world—regardless of their nationality, gender, age, religion or sexual orientation," said Adidas spokesperson Lauren Lamkin on Monday.

"We at Adidas are proud to bring this positive power of sport to life every day at work and we cherish the diverse, international workforce we have around the globe. Some companies have already voiced their concerns about this decision and we join them in their call for an open and diverse society and culture in the U.S. and around the globe. It goes without saying that our commitment to the U.S. market and our people in America remains unchanged despite this current political climate."
The matter continues to develop in terms of legality, authority, and practical implications for many players who travel internationally for their livelihood, so you can count on more statements and reactions from athletes, just as you would others, in the near future.