Culture
NASCAR's powerful support for racial justice shows that America may finally be getting the point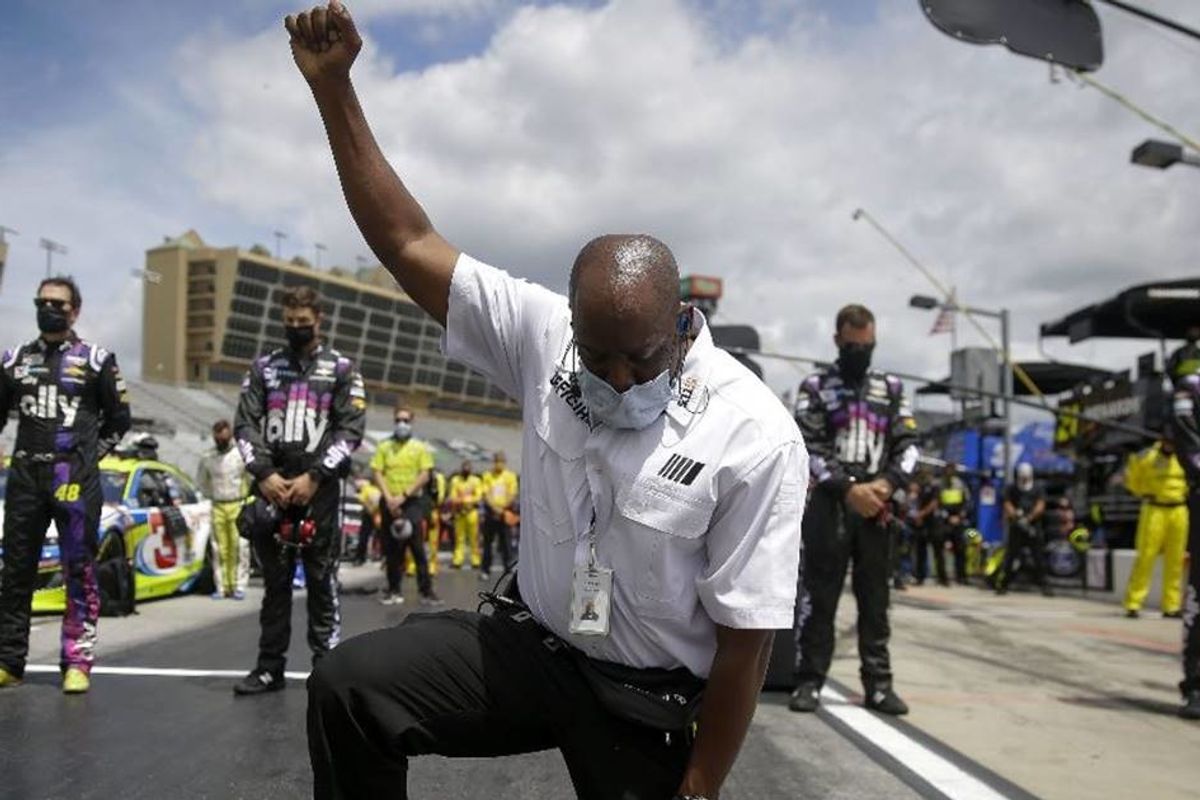 NASCAR delivered a powerful display of support for social justice on Sunday during its pre-race routine at Atlanta Motor Speedway. No fans were in attendance due to COVID-19 social distancing, but the race was broadcast to millions across the world.

Before the race, drivers stopped their cars on the track for a statement from NASCAR President Steve Phelps. He addressed concerns about racism in America. "Our country is in pain and people are justifiably angry, demanding to be heard," Phelp said. "The black community and all people of color have suffered in our country, and it has taken far too long to hear their demands for change," Phelps continued. "Our sport must do better. Our country must do better."
He continued saying, "The time is now to listen, to understand. And to stand against racism and racial injustice. We ask our drivers, our competitors and all our fans to join us in this mission. To take a moment of reflection to acknowledge that we must do better as a sport."
NASCAR President Steve Phelps addresses need for changewww.youtube.com
After his statement, there was a 30-second moment of silence and then some of the sports biggest names, including Dale Earnhardt Jr., Kyle Busch and Kevin Harvick spoke out for racial justice inequity in a scripted video.

The move was a powerful show of solidarity with the millions of protesters who have stood up to speak out against police brutality and systemic inequality after the murder of George Floyd, a black man, by a white police officer in Minneapolis last month on May 25.
During the pre-game prayer and playing of the national anthem, one NASCAR official, Kirk Price, took a knee.
"I fully respect the flag. I fully do," NASCAR official Kirk Price told @AndrejevAlex about kneeling during the pra… https://t.co/Fdn30OpcjA

— Michelle R. Martinelli (@Michelle R. Martinelli) 1591626823.0
"All I could think about, of course, is Mr. Floyd and his family," Price told The Charlotte Observer. "As well as the others that have passed from brutality from police and hostility in the world.
Price admits to the Observer that he "fully respects the flag," but he claims that's not what's at issue. He says: "The issue is African Americans being oppressed for so long under the flag. I know what the flag stands for and I know about Black people being oppressed because I am one."
NASCAR is one of the most popular sports among American conservatives and it has a long history of issues with race. The confederate flag is a common site at NASCAR events and many of the sport's biggest names spoke out against NFL players who kneeled during the national anthem to protest racial inequality.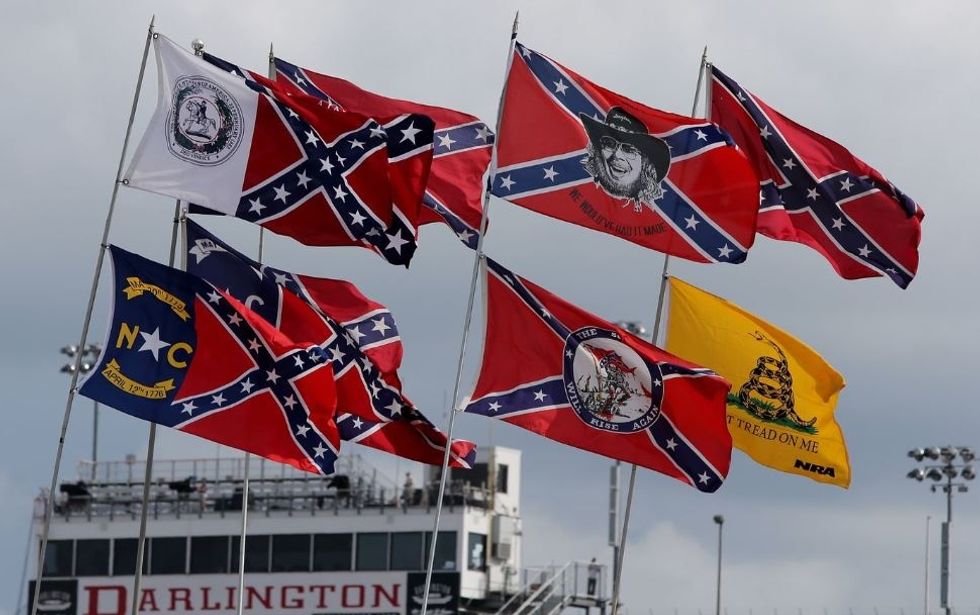 via Peter Delevett / Twitter
"Anybody that don't stand up for that ought to be out of the country. Period," seven-time Cup Series champion Richard Petty and NASCAR team owner said in 2017.

Team owner Richard Childress agreed with Petty saying, that if an employee kneeled for the song that he'd "get you a ride on a Greyhound bus when the national anthem is over."
NASCAR's decision to speak out about racial injustice shows that the message is beginning to penetrate groups that were previously were unconcerned.
CNN reports that an overwhelming majority of Americans 84% support the peaceful protests happening across the country and two-thirds of Americans say racism is a big problem in America today, up from 49% who said so in 2015.
Notably, the number of white Americans who say racism is a big problem is up from 43% to 60%.