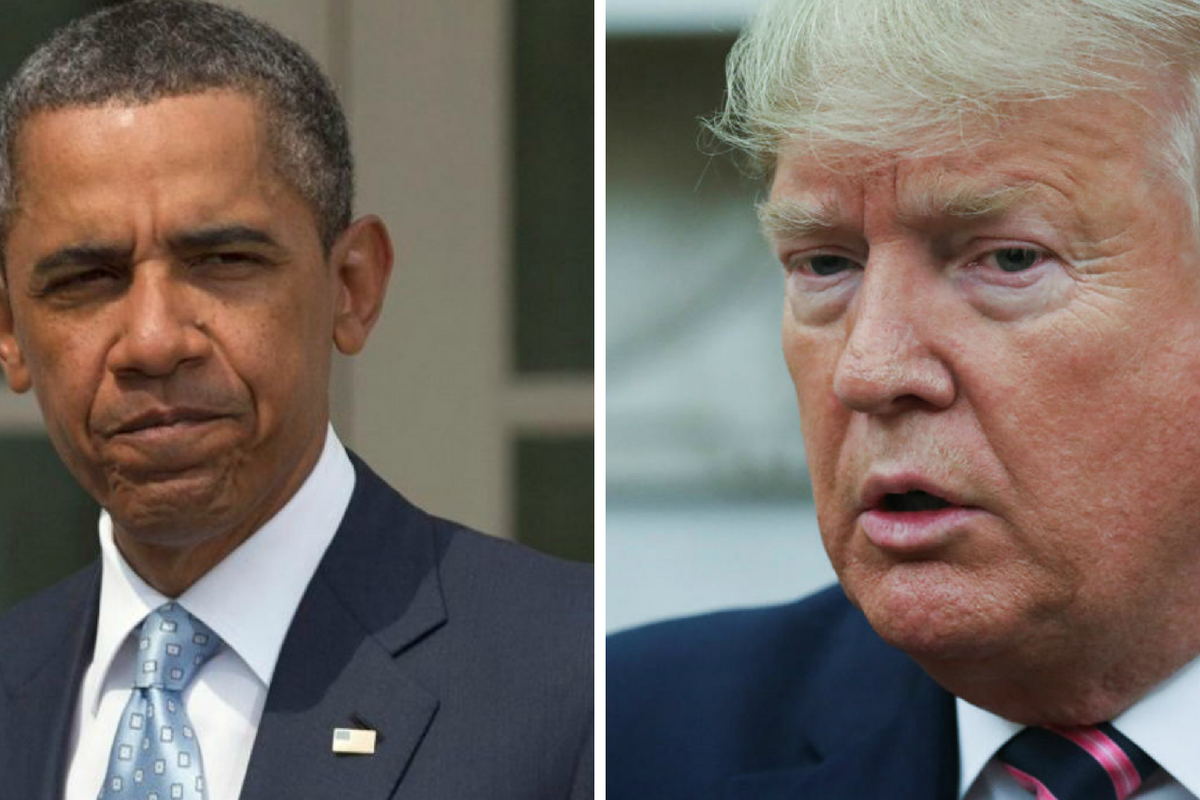 For many political campaigns, this type of ad is the last desperate act of a failing operation. But for President Trump it may be the first, last and most reliable resort. However, in this case, Barack Obama isn't letting it go unchecked.
---
A pro-Trump group called The Committee to Defend the President is running a heavily misleading, and frankly, racist, new campaign ad in South Carolina that is meant to discredit former Vice President Joe Biden. Why would a Trump re-election group be spending so much time and money attacking Joe Biden?
Well, Biden may be struggling in the Democratic primary but he's currently way out ahead in South Carolina, according to most polls. And Republicans have increasingly relied on a strategy of suppressing the black vote to hurt Democratic candidates for state and federal office. According to PolitiFact, it's a strategy the Trump supporting group has already used against a number of Democrats running for office.
The ad in question begins with the statement: "Joe Biden promised to help our community. It was a lie. Here's President Obama."
It then pulls a quote from Obama's 1995 audiobook recording of "Dreams from My Father." However, the conversation has nothing to do with Biden. It's Obama venting to a fellow Chicago politician about the historic and systemic racism that has affected black candidates in Chicago. Except in this video, it's meant to sound like a criticism of Biden.
Barack Obama is no stranger to racist and misleading attacks, especially from Donald Trump. But this time he's not sitting back in silence. Instead, Obama has actively asked TV stations in South Carolina to stop running the ad before the state holds its primary election this Saturday. He's also hired law firm Perkins Coie, which is sending a cease and desist letter to the Committee to Defend the President.
"This despicable ad is straight out of the Republican disinformation playbook, and it's clearly designed to suppress turnout among minority voters in South Carolina by taking President Obama's voice out of context and twisting his words to mislead viewers," said Katie Hill, Obama's communications director, in a statement. "In the interest of truth in advertising, we are calling on TV stations to take this ad down and stop playing into the hands of bad actors who seek to sow division and confusion among the electorate."

The Biden campaign weighed in as well:
"Donald Trump and his allies are absolutely terrified that Joe Biden will defeat him in November. Trump even got himself impeached by trying to force another country to lie about the vice president," Andrew Bates, a spokesman for the Biden campaign said in a statement. "This latest intervention in the Democratic primary is one of the most desperate yet, a despicable torrent of misinformation by the president's lackeys."
Amazingly, the Committee to Defend the President went on the record to defend the ad, putting out their own statement, which reads:
"It took President Trump to lower black unemployment and create jobs for the African-American community, in addition to passing criminal justice reform," Committee Chairman Ted Harvey said in the statement. "Joe Biden, on the other hand, is simply giving lip-service for votes. That's the point President Obama made in his book, and we have every right to use his own words — in his own voice — in the political forum."

It's still unclear if TV stations will respect Obama's request and pull the ad. But one thing is certain, Trump and his allies must be getting increasingly nervous about their chances in the election if they are willing to go there in such a desperate and early fashion.