Infographics
A Sustainable Living Laboratory
A model community that offers a template for sustainable living. Sixty-five miles north of Phoenix, Arizona,...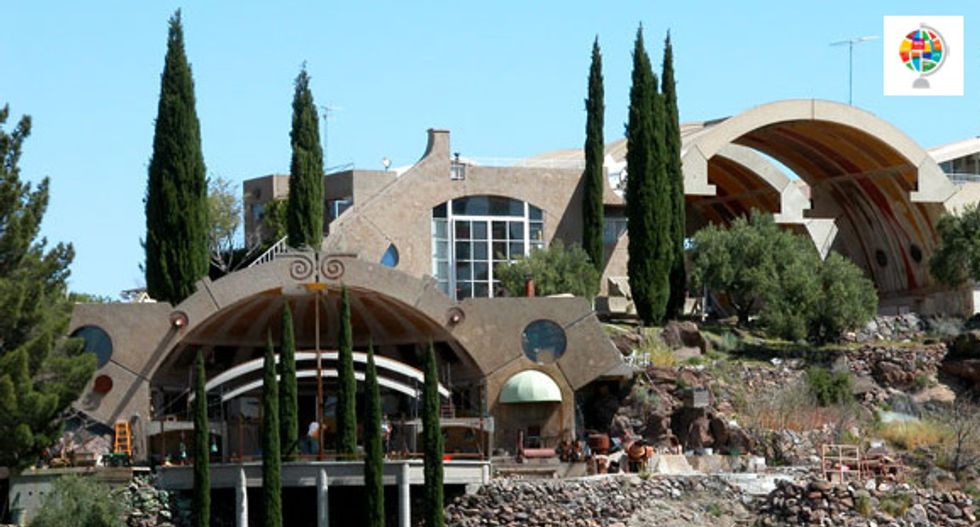 A model community that offers a template for sustainable living.Sixty-five miles north
of Phoenix, Arizona, on a hillside dotted with cypress trees, a cluster of buildings cuts an otherworldly silhouette out of the desert sky. This is Arcosanti, a working model of sustainable development and the life's work of Italian architect Paolo Soleri.Now 90, Soleri has spent the last six decades rethinking the way we build cities.Arcology, his theory of development, integrates architecture, urban planning, and ecology to maximize resources for a bursting world population. The theory calls for compact city centers that expand vertically before growing outward and obviate the need for cars.Arcosanti is Soleri's prototype. Its densely concentrated, mixed-use structures use passive-solar design features that create heat from sunlight and cool air from shade and cross ventilation. A small organic farming operation supplies produce for Arcosanti's cafe. And massive quarter-spherical apses house a bronze foundry and ceramics studio that produces and sells wind-bells to help fund the project. But, the wind-bells don't pay for everything. Nearly 40 years in the making, Arcosanti is far from complete, due to chronic funding shortfalls. Soleri planned a city that could sustain 5,000 people over a 25-acre area; the residential population actually hovers near 80.Despite being unfinished, Arcosanti fulfills Soleri's mission by serving as a laboratory and learning annex, says Matteo di Michele, who coordinates its arcology workshops. More than 50,000 visitors tour the alternative to urban sprawl every year, and thousands of former residents and workshop attendees continue to promote arcology through alumni networks and in professional urban planning and architecture practices. Setting the right example is a fundamental part of the effort. "It's a question of finding a feasible way to provide a roof for all the seven billion people that are living today," di Michele says. "So it's very urgent to build prototypes, to have examples of sustainable, compact cities."
Photo by Yuki Yanagimoto
Return to interactive site

---