Infographics
Infographic: Our Streets. Our City
L.A. streets shape the city's culture. See how Wilshire Blvd connects lifestyles, neighborhoods, and people, from the beaches to downtown.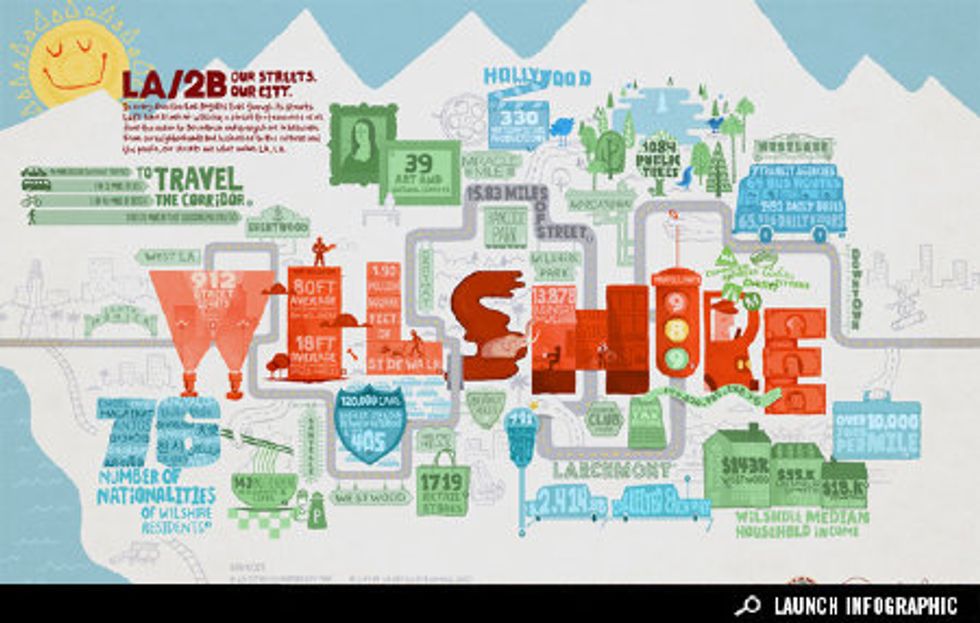 Open Infographic
The Los Angeles Department of City Planning (LA DCP), the Los Angeles Department of Transportation (LA DOT) and GOOD/Corps, an affiliate of GOOD, have teamed up to present the second infographic in the LA/2B series: Our Streets. Our City. (Check out our first one here.)
This latest infographic reveals how our streets go beyond just getting us from point A to point B. They actively shape our city's culture—connecting lifestyles, neighborhoods and people in the wide-ranging grid that makes up Los Angeles. This design showcases the vitality of one of L.A.'s most important thoroughfares: Wilshire Blvd.
---
LA/2B is an ongoing collaborative program that provides an opportunity for people in Los Angeles to discuss the future of our streets and transportation. It's a chance to create solutions that will make our city a more thriving community in the future.

Learn what makes Wilshire special. And if you have innovative ideas for how to transform Los Angeles transportation, join the conversation here and become part of LA/2B.