Communities
Convertible sleeping bags turn into insulated tents for the homeless
A team of students devised a compact, low-cost shelter for homeless people during winter.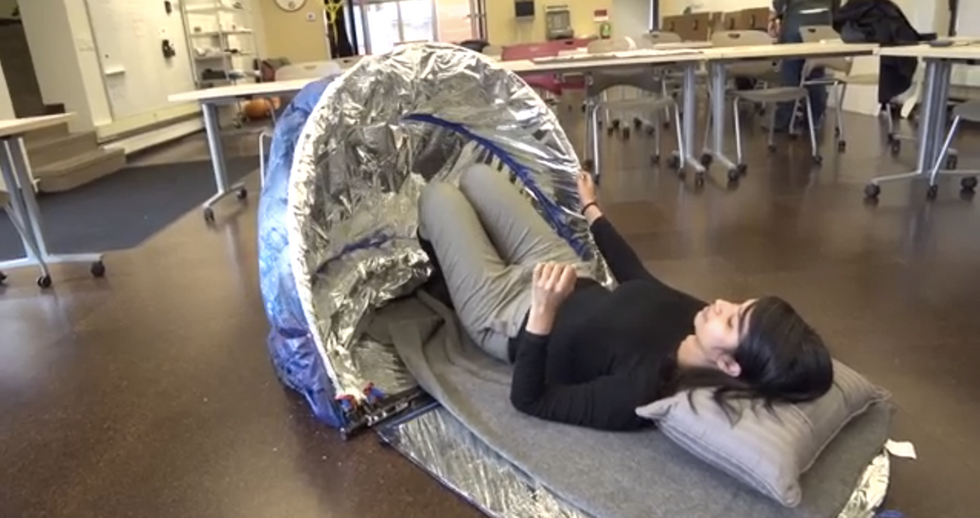 This article originally appeared on 01.26.15
When blizzards line up to rip through the Northeast, schools close, flights are canceled, and people even board up their houses. Though missions and homeless shelters do what they can to provide safety to those who have no homes to go to, thousands of people still have to weather the cold outside.
---
At Carnegie Mellon University's 2015 Impact-a-Thon, students were challenged to provide a temporary low-cost shelter for homeless people during the winter. One team of students came up with the "Satellite Shelter," an insulated sleeping bag that converts into a tented structure. The students used mylar, a reflective material frequently used in greenhouses and space blankets, and wool blankets to ensure the shelter would keep anyone in it safe from the cold.
"We wanted to make sure it was super-portable and durable so that it's easy to carry," said student Linh Thi Do, who worked on the project. "We have wheels on it so it's easy to move from place to place."
Solutions like this one are handy in an emergency. Perhaps, however, other cities should take note of the city of New Orleans' success in providing long-term housing solutions for its homeless veterans. The only perfect solution to homelessness is giving people permanent homes to go to at night.