Health
A grocery chain asked people to report tampon shoplifters. It sparked a backlash about women's health.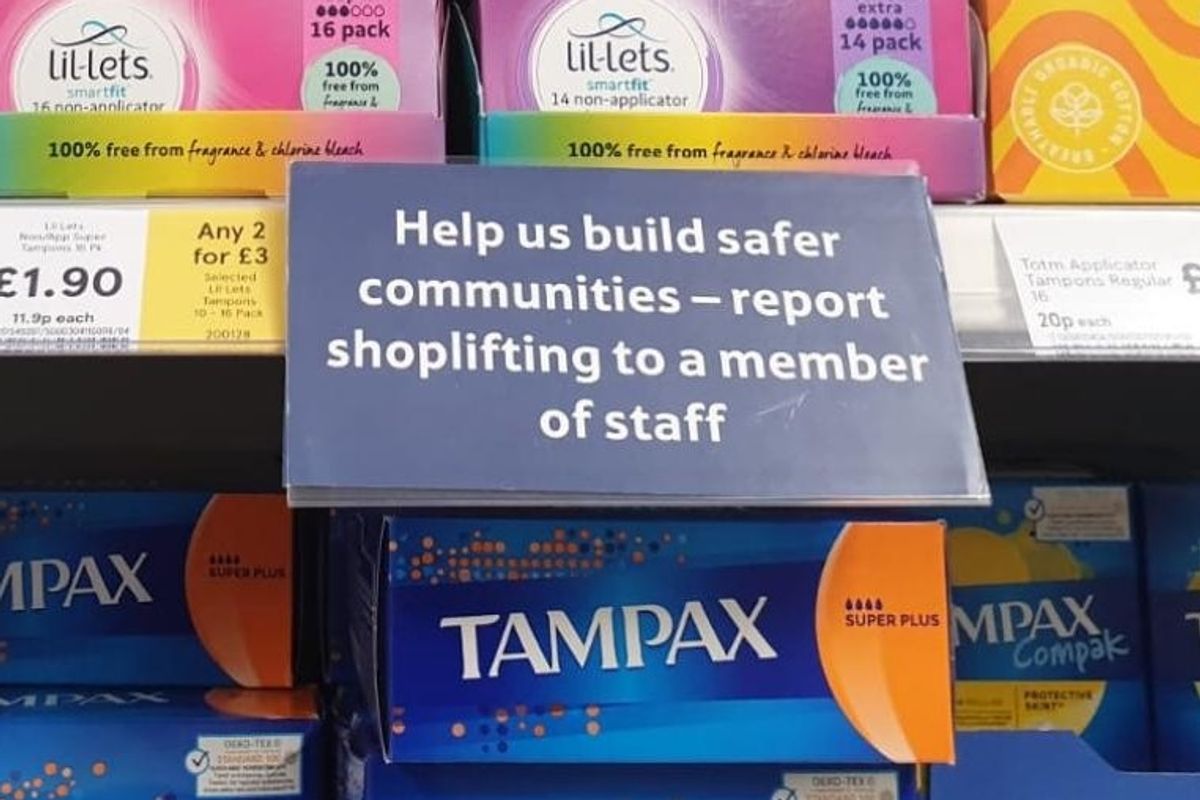 Tampons are expensive. In 2015, women spent $3.1 billion on feminine hygiene products, including tampons. Women spend an estimated $150 million a year just on the sales tax for menstrual products. Most women spend around 30 years menstruating and spend an average of $144 a year just on tampons or pads. And did we mention that tampons are expensive? According to nonprofit PERIOD, one in four women have a hard time affording menstrual products. But if you don't get a period, you might not be aware of how much of a burden periods really are.
---
British grocery store chain Tesco recently put up signs asking customers to report shoplifters in a London location. Twitter user @oonskie posted a photo of one sign reading, "Help us build safer communities–report shoplifting to a member of the staff." The only problem was, it was placed above the tampons.
The sign quickly opened up a discussion about the accessibility of menstrual products.
Shoplifting isn't the problem. It's the fact that sanitary products aren't free and accessible to those who menstru… https://t.co/UqWO7kBfWi

— The Angry Łhamana (@The Angry Łhamana) 1580359740
@oonskie @HMPSurvival For me, a "safer" society is one where people wouldn't need to steal things like sanitary products.

— Jess Plant (@Jess Plant) 1580312133
@oonskie @HMPSurvival the most embarressing moment in my life was when i had only $5 on me& got my period even the… https://t.co/h2cDqYadAJ

— shawna 🦋🌼 (@shawna 🦋🌼) 1580386087
Some people said they would turn a blind eye if they saw someone shoplifting tampons.

@oonskie @beyondbarsuk @HMPSurvival If you see someone shoplifting tampons, they obviously really need them - just give them a pack. Jeez.

— ladygeeke 💙🧡🇪🇺🇱🇺 #GTTO #PATH (@ladygeeke 💙🧡🇪🇺🇱🇺 #GTTO #PATH) 1580308782
if i see someone stealing feminine hygiene products of all things from a huge chain supermarket, i'm minding my bus… https://t.co/GKrTJw0HpT

— Eleanor Neale (@Eleanor Neale) 1580335802
If I see someone stealing tampons my lips are SEALED eyes SHUT didn't see a thing https://t.co/dqe1KNDo0X

— STUPID BIG TEETH (@STUPID BIG TEETH) 1580368100
@oonskie @HMPSurvival If you see someone stealing tampons: https://t.co/wWjpAs8he5

— Roxi Horror 💀🌸 (@Roxi Horror 💀🌸) 1580361657
Some people even called out a double standard, because condoms are often given away for free.

In Sex Ed the boys are given free condoms but the idea that tampons should be as easily accessible is non existent.… https://t.co/KvFmkeyheC

— mommy (@mommy) 1580408813
Menstrual products are a necessity, however many states don't treat them as such by subjecting them to the "tampon tax." While some states have done away with the "tampon tax," 33 states consider menstrual products a luxury item and don't exempt them from higher sales taxes the same way food, medicine, and even Viagra is. The tampon tax creates an unfair burden, especially since the cost of menstrual products ads up. Tampons are only really considered a luxury to the people who don't actually have to use them.
Tesco has since apologized for the sign, saying it was placed there "in error." "We know that the cost of buying essential sanitary products can be a real struggle for some, which is why we were the first retailer to cover the cost of the 'tampon tax' to make these items more affordable," a spokesperson told BuzzFeed News. "We want everyone to feel welcome in our stores and are very sorry for any offense caused."
When you hit puberty, you don't say, "I would like one period please," and opt in to menstruation. It's time we stop treating periods as something women do because they just want to be fancy.