Woman dreams she swallowed her engagement ring and wakes up with it missing
Dreams can have a powerful effect on us.
09.16.19
We often dismiss our dreams as nonsensical dispatches from the mind while we're deep asleep. But recent research proves that our dreams can definitely affect our waking lives.

People often dream about their significant others and studies show it actually affects how we behave towads them the next day.
"A lot of people don't pay attention to their dreams and are unaware of the impact they have on their state of mind," said Dylan Selterman, psychology lecturer at the University of Maryland, says according to The Huffington Post. "Now we have evidence that there is this association."
---
Jenna Evans, an engaged woman from San Diego, California, knows the effect that dreams can have on our waking life after a bizarre incident earlier this month.

She went to sleep on a Tuesday night, dreamt she ate her wedding ring and woke up with it in her stomach the next morning.
Evans and her fiancé Bobby Howell, "were in a very sketchy situation involving a high speed train and bad guys," she wrote in a Facebook post.
"(Bobby) told me I had to swallow my ring to protect it; so I popped that sucker off, put it in my mouth and swallowed it with a glass of water," Evans wrote.
When she awoke the next morning and realized she had swallowed it, she and Howell were in hysterics.
"We laughed pretty hard for about an hour and a half, called my mom, laughed until we were crying, googled 'do other adults swallow rings' because kids do it all the time, but apparently it's less common for adults," Evans wrote.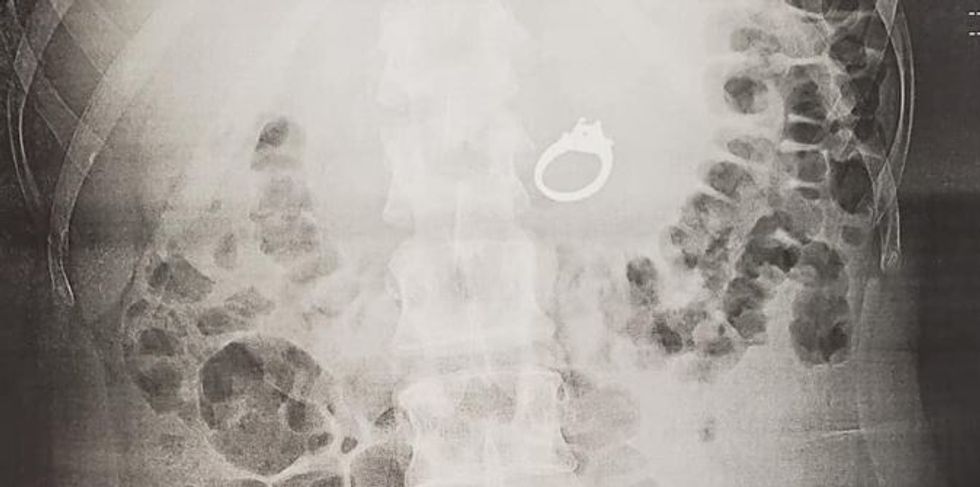 via Jenna Evans / Facebook
She and Howell drove to their local urgent care where the doctor took an X-ray proving that the ring was in Evans' stomach. Now, she had a dilemma, have it removed by the doctors or let nature take its course.

She decided to have it removed via upper endoscopy.
"I was really happy because I don't know if I can look at it and appreciate it in the same way, if I had to search for it," Evans told ABC 10 San Diego.
The endoscopy went perfectly and the doctors handed the ring over to Howell for safe keeping. The couple has agreed that, form now on, Evans will sleep with her ring on her bedside stand.

"We're still getting married and all is right with the world," Evans wrote.
The couple plans to be married this May in Evans' home state of Texas.
Health