Money
The smug letter didn't get the public response the city was hoping for.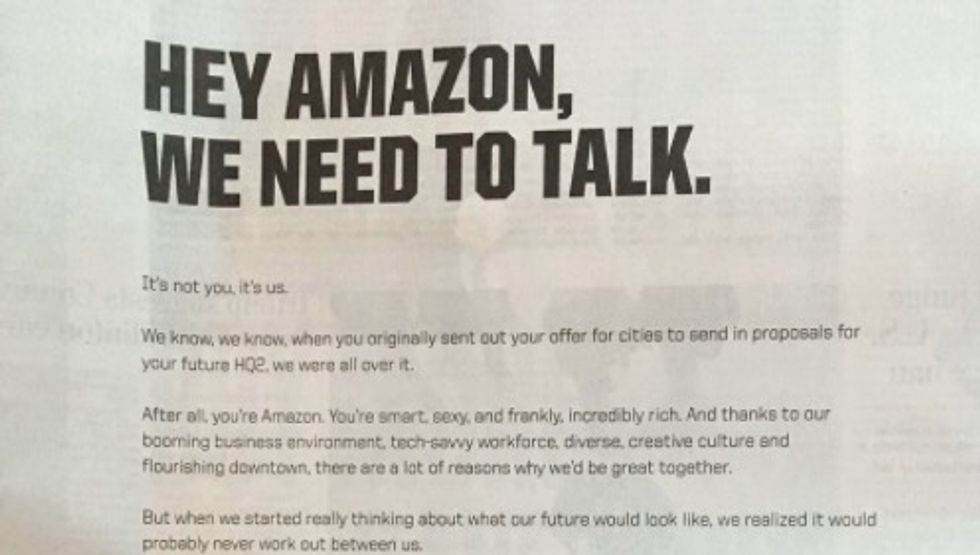 With so many towns and cities courting Amazon to be the selected site of the retail juggernaut's "HQ2" home to 50,000 new jobs, each is working hard to stand out in their own way. However, much like on Tinder, a bold, memorable move doesn't necessarily equate to a successful one.
The city of Little Rock, Arkansas, found that out the hard way after a bold public "breakup letter" to Amazon was seen by virtually everyone as desperate and undignified. With very little context available for whatever relationship (if any) Amazon and Little Rock had, the city shot this missive out to the world via a full-page Washington Post ad, signed "Love, Little Rock."
---
Accompanying the letter is this video reiterating the issues stated in the open letter.
According to The Washington Post, which is itself owned by Amazon CEO Jeff Bezos, Little Rock just last month announced its intention to pursue the headquarters.
Rather than just cease pursuing the Amazon campus, Little Rock used this letter to publicly boast about how they, apparently, don't have the resources to accommodate a large company at this time. It's a strange proclamation to proudly make public, and it certainly got people talking about the city — but for all the wrong reasons.
One explanation for the blunt and unsolicited missive may be the city's proximity to Bentonville, Arkansas, the home of Walmart, which is perhaps Amazon's closest competitor.
Regardless of the contributing factors, this ad sure does read like an instance of someone breaking off the relationship before they get dumped. Time will tell if it proves to generate new interest in Little Rock as a business destination or supports the argument that the city just isn't capable of accommodating a large-scale corporate migration.