Money
The Salary You Need To Buy A Home In 27 U.S. Cities
How much do you really need to earn to own a home?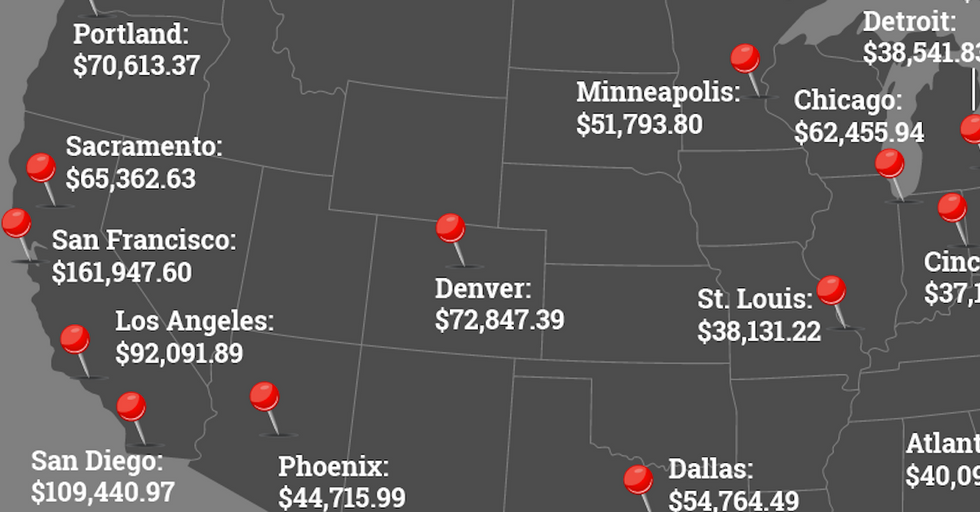 This article originally appeared on 09.06.17
Money matters have generally been regarded a universal worry among US families for the simple reason that there never seems to be enough. From households with an annual income over $150,000, to families bringing in a combined $60,000, making ends meet is often a struggle.
---
A recent report by mortgage and loan site HSH.com determined the salaries needed to own a median-priced home in 27 different US cities, revealing that the struggle is as difficult as ever. The report uses average property tax information from the 2011-2013 Census Bureau's American Community Survey, average homeowner insurance premium costs from the Insurance Information Institute and median single family home prices from the National Association of Realtors' 2016 second-quarter data.
Compared to the first quarter, only three metro areas, all in Florida, sustained an average home price: Miami, Tampa and Orlando. Most other city regions across the states saw significant increases in the median price of a single-family home in the second quarter of the year.
Among them, San Francisco saw a 15 percent increase, shooting the average cost of a single-family home to $885,600. According to Huffington Post, a buyer would need to bring in an average salary of $162,000 to afford a typical home in the city. Only 13 percent of households in the Bay Area can actually afford the rising housing costs, however, according to a recent report by Paragon Realty.
Other metro areas with skyrocketing price gains were Cleveland at 24 percent, Chicago at 18 percent, as well as Pittsburgh and Cincinnati at 17 percent. Although the city saw a substantial increase in the average cost per home, Pittsburgh aligned itself the most affordable metro area, with an annual household income of $32,400 needed to buy a home.
The takeaway? If you're living in a costly metro area like San Francisco, Los Angeles and New York, it may be time to migrate to one of the country's more affordable city centers. Although, with the housing market showing significant price increases in even the most cost-conscious cities, it's the risk a buyer must be willing to take.