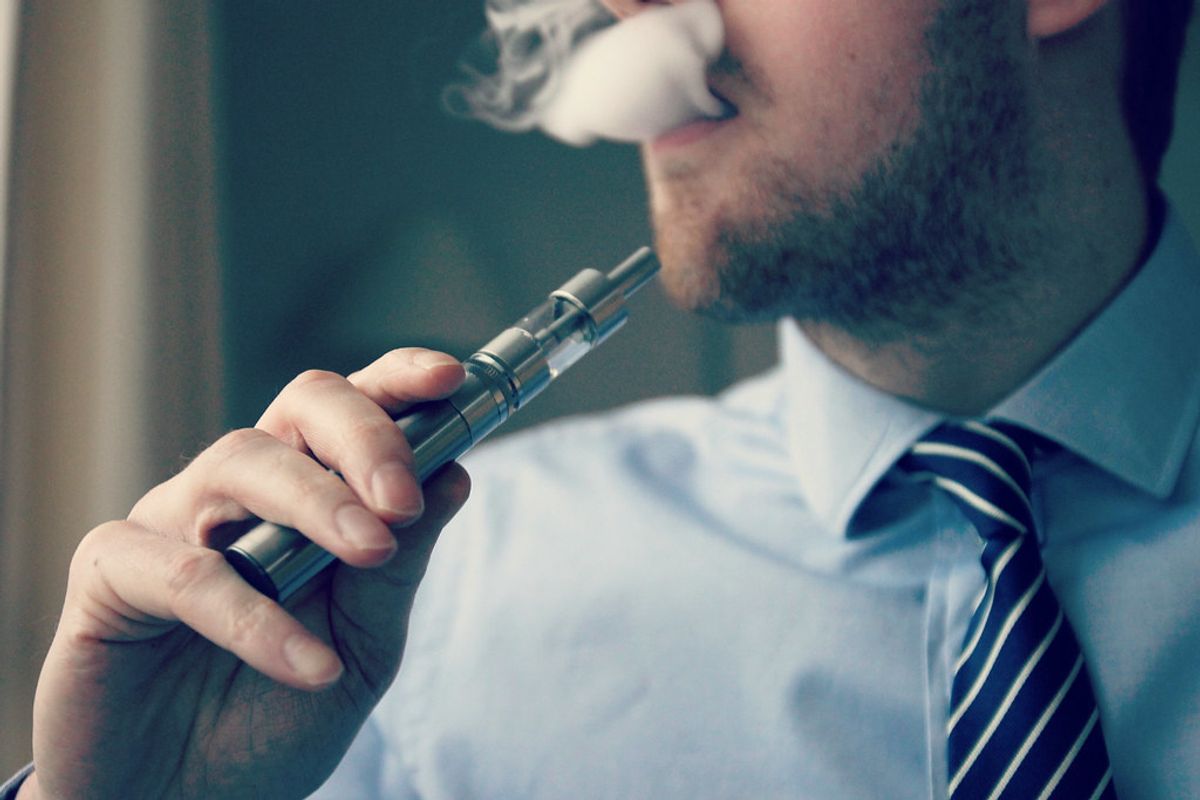 The vaping epidemic is like a PSA come to life. A recent outbreak of vaping-related deaths and illnesses has affected people from across 46 states. More than 800 people fell ill, and at least 17 people died from vaping. In Illinois and Wisconsin, 87% of the people who got sick said they used THC, and 71% of people also said they used products that contained nicotine. Symptoms of the illness included coughing, chest pains, shortness of breath, nausea, and fatigue. We finally might now why.
Researchers from the Mayo Clinic believe toxic chemical fumes, not the actual chemicals in the vape liquid, might be the culprit. "It seems to be some kind of direct chemical injury, similar to what one might see with exposures to toxic chemical fumes, poisonous gases and toxic agents," Dr. Brandon Larsen, a surgical pathologist at the Mayo Clinic in Arizona, said in release.
---
Initially, researchers thought lung damage was caused by accumulation of vape oils. However, when they looked at samples of lung tissues from 17 people who had vaped, they couldn't find evidence of lipoid pneumonia, a rare form of pneumonia caused by inhaling oils. Two of the patients studied had died from vaping, and 70% of the patients studied had used marijuana or cannabis oils. "Based on what we have seen in our study, we suspect that most cases involve chemical contaminants, toxic byproducts or other noxious agents within vape liquids," Larsen said. Scientists have confirmed what common sense should have already told us – inhaling toxic chemicals is bad for you.
This is the first formal study of lung tissue from people who have fallen ill after vaping. Vaping is still a relatively new alternative to smoking. The first commercially successful e-cigarette was developed in 2003, and they were introduced into the U.S. in 2006. We're still learning about the consequences of vaping.
Just because researchers have narrowed down what might be causing the illnesses doesn't mean we're out of the water just yet. Researchers still have to discover what chemicals are causing the illnesses and deaths. For now, the American Lung Association warns against vaping as it can cause irreversible lung damage, and Dr. Larson concurs. "Everyone should recognize that vaping is not without potential risks, including life-threatening risks, and I think our research supports that," he said.
The FDA is considering banning non-tobacco vape liquids altogether, and Michigan has already banned sales of e-cigarettes. San Francisco and Boulder, Colorado have similar bans as well.
This recent epidemic is a reminder that no form of smoking, electronic or otherwise, is truly safe. If you're trying to kick the habit, it might just be better to cut the habit altogether, rather than replace it with alternative forms of smoking.