Politics
In his first public speech since quarantine, Biden called out Trump's assault on peaceful protests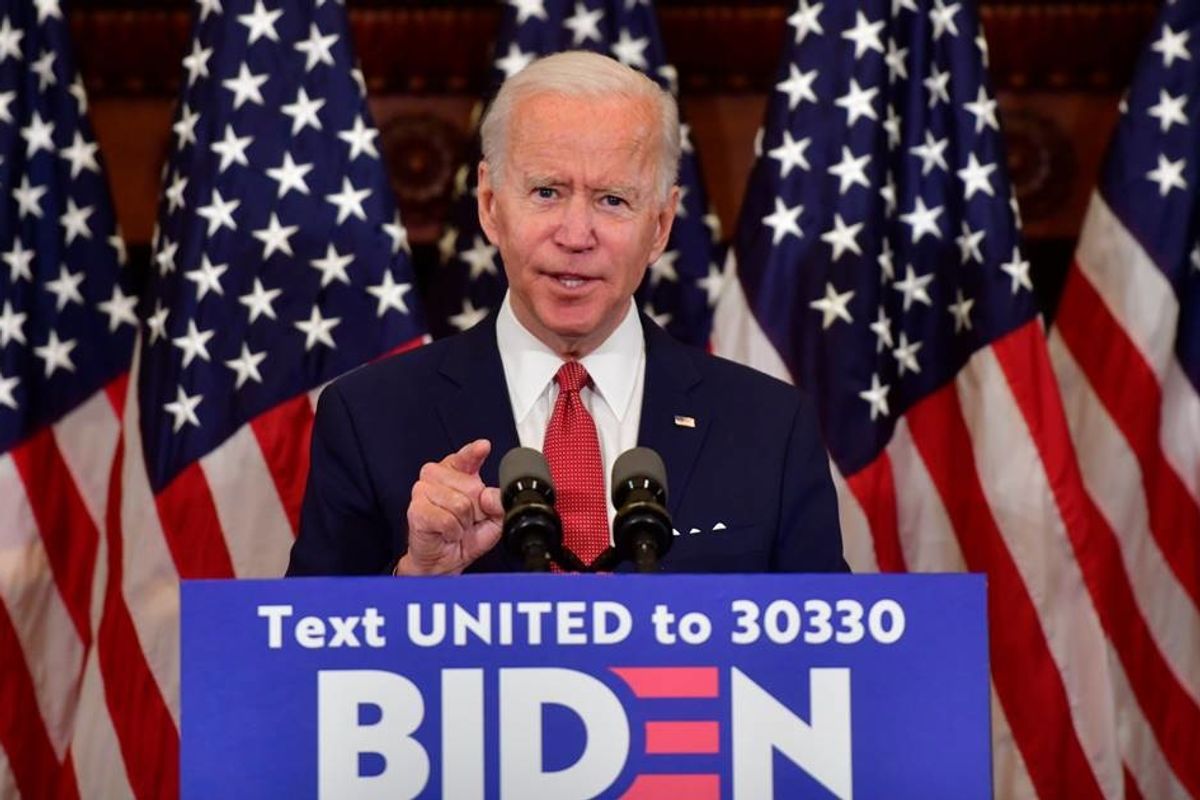 via CSPAN
In his first public speech since going into quarantine in mid-March, presumptive Democratic nominee Joe Biden addressed the nation from Philadelphia on Tuesday. The speech drew stark contrasts between himself and President Trump who Biden likened to racist southern leaders of the '60s.

Over the past 24 hours, Trump has told governors to "dominate" protesters, threatened to deploy the military on American citizens and had a really bizarre photo op where he was unsure how to hold "a Bible."
---
While Trump is positioning himself as the "law and order" president, Biden has taken an much more empathetic tone, pledging to take aggressive action to implement police reform in light of the murder of George Floyd bya Minnesota police officer.

"'I can't breathe. I can't breathe.' George Floyd's last words. But they didn't die with him. They're still being heard. They're echoing across this nation," Biden said.
"They speak to a nation where too often just the color of your skin puts your life at risk. They speak to a nation where more than 100,000 people have lost their lives to a virus and 40 million Americans have filed for unemployment -- with a disproportionate number of these deaths and job losses concentrated in the black and brown communities," Biden said.
"And they speak to a nation where every day millions of people — not at the moment of losing their life — but in the course of living their life — are saying to themselves, 'I can't breathe.'"
While supporting those who protest the police brutality, Biden also called out those who perpetrate violence. "We need to distinguish between legitimate peaceful protest — and opportunistic violent destruction," he said.
Joe Biden remarks on Protestswww.youtube.com
Biden then criticized Trump's awkward Bible photo op.

"The President held up a bible at St. John's church yesterday," he said. "If he opened it instead of brandishing it, he could have learned something: That we are all called to love one another as we love ourselves."
He then called upon Congress to take specific actions to address police brutality. "I call on Congress to act this month on measures that would be a first step in this direction. Starting with real police reform," he said.
He also pledged to outlaw choke holds, to stop transferring weapons of war to police forces, to improve oversight and accountability and create a model use of force standard.
He also pledged to open a national police oversight commission during his first 100 days in office.
Biden then compared Trump's behavior over the past week to that of white racists in the '60s.
"When he tweeted the words 'When the looting starts, the shooting starts' — those weren't the words of a president. They were the words of a racist Miami police chief from the 1960s," he said.
"When he tweeted that protesters 'would have been greeted with the most vicious dogs ... that's when people would have been really badly hurt.' Those weren't the words of a president — those were the kind of words a Bull Connor would have used unleashing his dogs," he continued.
He finished his speech by giving some comforting words to a nation exhausted by chaotic leadership, a pandemic, and civil unrest.
"We are a nation in pain, but we must not allow this pain to destroy us," Biden said. "We are a nation enraged, but we cannot allow our rage to consume us. We are a nation exhausted, but we will not allow our exhaustion to defeat us."