Culture
Nike is coming out with a 'modest' swimwear line which even includes a swim hijab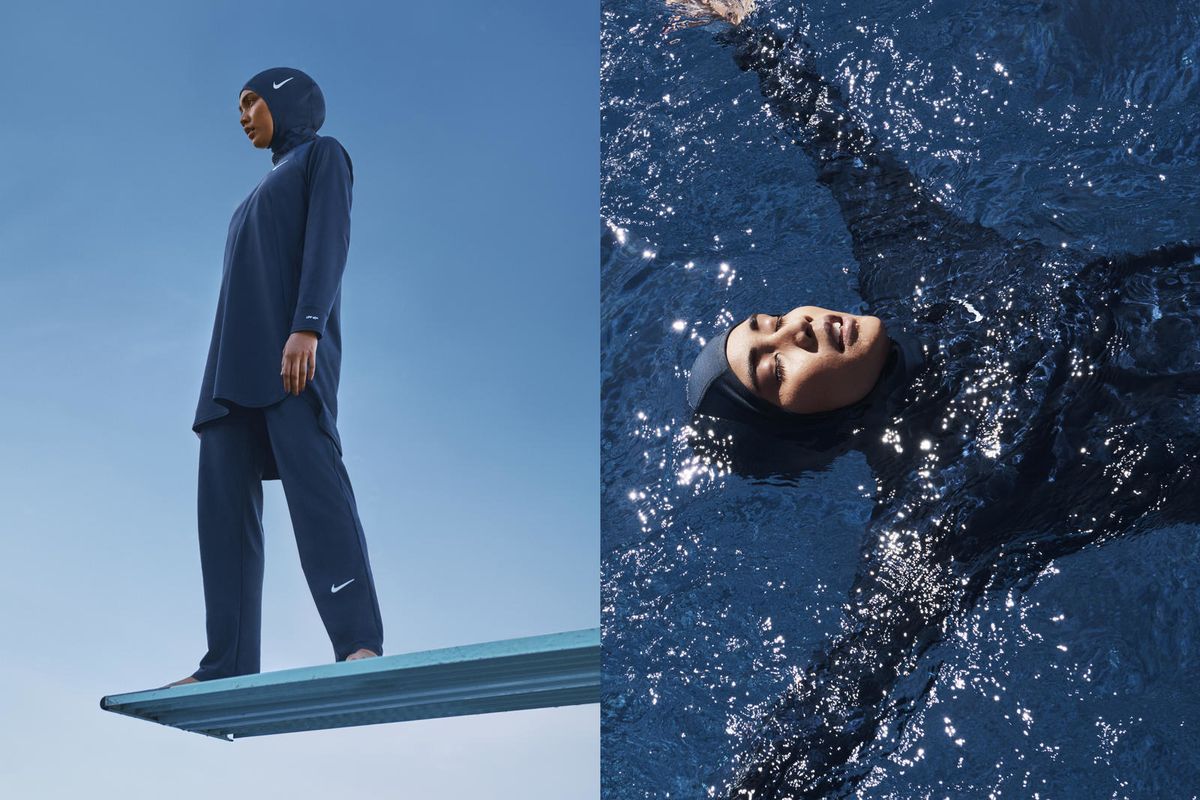 Many Muslim women wear modest attire, yet their needs aren't always catered to when it comes to the world of athletics. The lack of swimwear options is such a problem that "a lot of Muslim girls never learn how to swim," Olympic medalist Ibtihaj Muhammad told the New Yorker . Now, Nike has launched a new modest swimwear line specifically with the needs of those women in mind.
The Nike Victory Swim Collection comes from listening to athletes from diverse communities. They found a lack of options for female athletes, specifically when it came to swimwear. Many female athletes felt that most modest swimwear options leave them feeling weighted down or wondering if their hijabs would stay in place while swimming.
---
Introducing the Nike Victory Swim Collection | Nike youtu.be
"The more we listened, the more possibility we saw to serve female athletes in new dimensions," Martha Moore, Nike Creative Director, said in a statement . "We're excited to inspire more women to see themselves in sport by thinking creatively and designing inclusively."
The burkini is becoming more mainstream, especially after Sports Illustrated featured their first "burkini babe" on the cover of their swimsuit issue earlier this year. However, they're not designed for athletic competition and tend to have folds that can weigh a swimmer down.
Nike's option is designed to provide full coverage without reducing range of motion in the water. The Swim Hijab is designed to stay in place while swimming through a mesh net that holds hair in place. The collection includes the Nike Victory Full-Coverage Swimsuit, plus separate options including a swimming hijab, a tunic top, and leggings.
Nike's new line of modest swimwear is lightweight & quick-drying w/ UPF 40+ sun protection. The Nike Victory Swim C… https://t.co/IKnhKWCLuX

— Heidi Burgett (@Heidi Burgett) 1575971121.0
Zahra Lari, a figure skater from the United Arab Emirates , reviewed the line for Nike. "It doesn't weigh you down, and it helped me swim better," Lari said. "It's so different than any of the swimsuits I've ever seen, and I know I can wear this confidently." Lari was the first athlete to wear hijab while competitively ice skating.

Some Twitter users are also excited about the line.
This is great! Anything that helps women of all backgrounds become more active is fantastic. https://t.co/RL9oQdBj6d

— This Girl Can (@This Girl Can) 1575984743.0
The new Nike Swim Collection is so exciting. Not just for athletes that require modest swimwear, but also for those… https://t.co/6lChmMzs52

— Danielle Orange (@Danielle Orange) 1576024007.0
This isn't the first time Nike has catered to the needs of athletes who wear hijab. In 2017, Nike launched the Nike Pro Hijab for athletes who had problems finding a suitable hijab for athletic activity. Nike was the first company to do so, providing athletes with both representation and suitable workout gear for their needs.

It's great that a major company is making swimwear more accessible and inclusive!