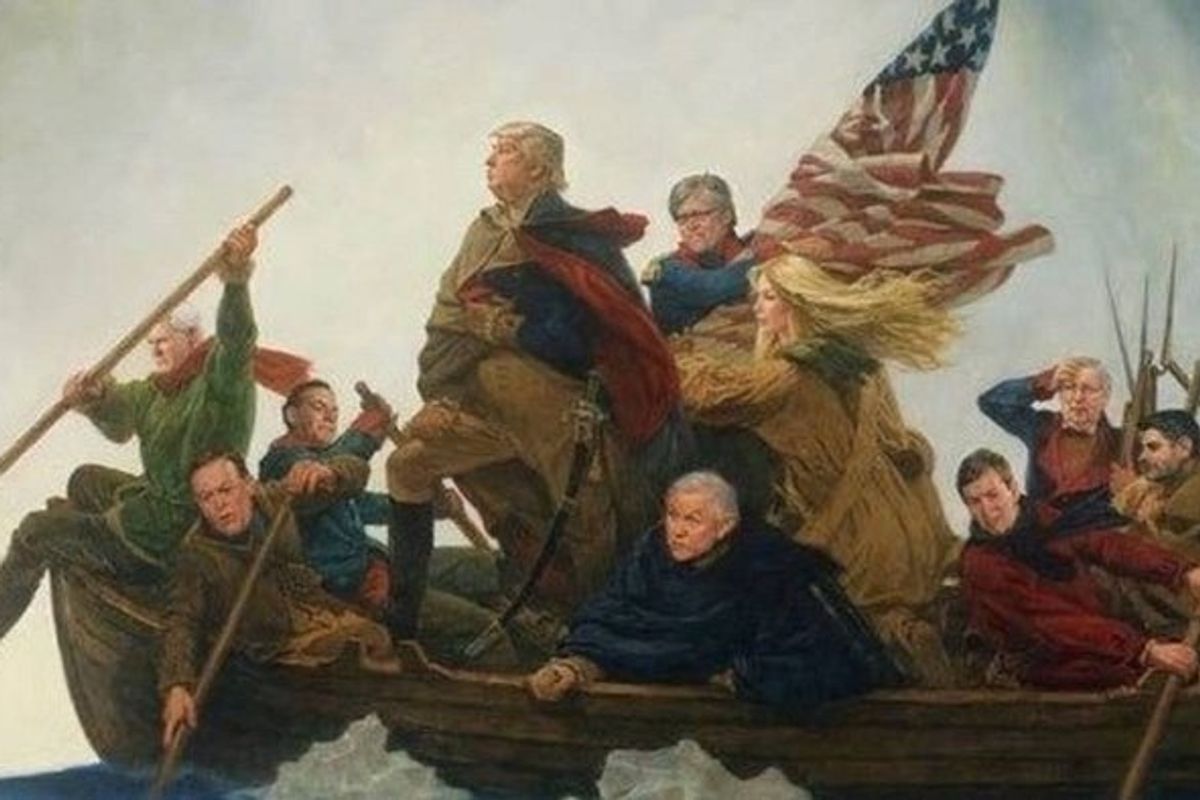 The president seems to abhor anyone taking the spotlight from himself. At a ceremony at the White House Rose Garden on Monday where he signed a bill granting permanent compensation to 9/11 first-responders, he included himself among the heroes.
"I was down there also, but I'm not considering myself a first-responder," Trump told the 9/11 first-responders, many of whom lost colleagues in the attacks. "But I was down there. I spent a lot of time down there with you."
However, like most things Trump says, it wasn't true.
"I spent many months there myself, and I never witnessed him," Richard Alles, a retired deputy chief with the New York Fire Department, told The New York Times. "He was a private citizen at the time. I don't know what kind of role he could have possibly played."
Video footage shows that shortly after the World Trade Center buildings fell, he bragged that he now owned the tallest building in downtown Manhattan. Which wasn't true.
"40 Wall Street actually was the second-tallest building in downtown Manhattan and it was actually, before the World Trade Center, was the tallest — and then, when they built the World Trade Center, it became known as the second-tallest," Trump said. "And now it's the tallest."
Trump was the first man in history to be in three places at once. On 9/11, Donald was downtown being a first respon… https://t.co/mdOULvFh5p

— Mrs. Betty Bowers (@Mrs. Betty Bowers) 1564437054.0
Trump's claim that he was among the first-responders has drawn criticism and spawned tons of memes under #LostTrumpHistory. People on social media are mocking his penchant for lying and stealing others' thunder by Photoshopping him into historical events such as the moon landing, Washington crossing the Delaware, and The Last Supper.
Here are some of the best responses to #LostTrumpHistory.
Ordering the miso cod at nobu is not the same as running up the stairway in tower two #LostTrumpHistory https://t.co/pUKWRV3Uwk

— Molly Jong-Fast (@Molly Jong-Fast) 1564437025.0
"I wont call myself an astronaut, but I was there when we landed on the moon" #LostTrumpHistory https://t.co/q4LBTKB4vf

— Pete Buttigieg's Wine Cave (@Pete Buttigieg's Wine Cave) 1564429842.0
@gtconway3d He stormed the beaches of Normandy and took out three German bunkers with a golf club. #LostTrumpHistory https://t.co/7ESsyCctUq

— Jelle Simons (@Jelle Simons) 1564431853.0
He was raking while Rome burned #LostTrumpHistory https://t.co/MYU836jHU4

— 🥞MeltLikeButta🥞 (@🥞MeltLikeButta🥞) 1564430762.0
First Responder at the Delaware. #LostTrumpHistory https://t.co/qiMvBT8bqQ

— Eric Wolfson (@Eric Wolfson) 1564433226.0
On November 22, 1963, you can see Donald Trump here on the grassy knoll. #LostTrumpHistory https://t.co/jFn0nM2xa4

— Eddie (@Eddie) 1564434896.0
Trump hosted the Last Supper & made Jesus pay for it. #LostTrumpHistory https://t.co/lOojo3meZ3

— 🎠🕯Deb💫 (@🎠🕯Deb💫) 1564440253.0
During the summer of 2019 while Congress was in recess. Trump singled handedly carved his own face onto Mt Rushmore… https://t.co/iMFWhH88v2

— Joe C (@Joe C) 1564433376.0
During the Revolutionary War when our army secured the airports from the air.. which was a noble deed since airplan… https://t.co/YoKmfIIqXb

— spensergirlFlorida (@spensergirlFlorida) 1564432217.0
Trump discovers gravity #LostTrumpHistory https://t.co/L0zDXaYuje

— Chris Borrill (@Chris Borrill) 1564429969.0
#LostTrumpHistory Here's trump hitting the game winner in the 88 World Series... https://t.co/IBKBMHwVUQ

— BrewmasterCarlo (@BrewmasterCarlo) 1564429196.0
Trump wrote the American Declaration of independence in 1773 and signed it in 1774. Trust me.....… https://t.co/lI9HuTG9mM

— Mrs C (@Mrs C) 1564430202.0
---