The Planet
25 of the funniest signs from the global Climate Strike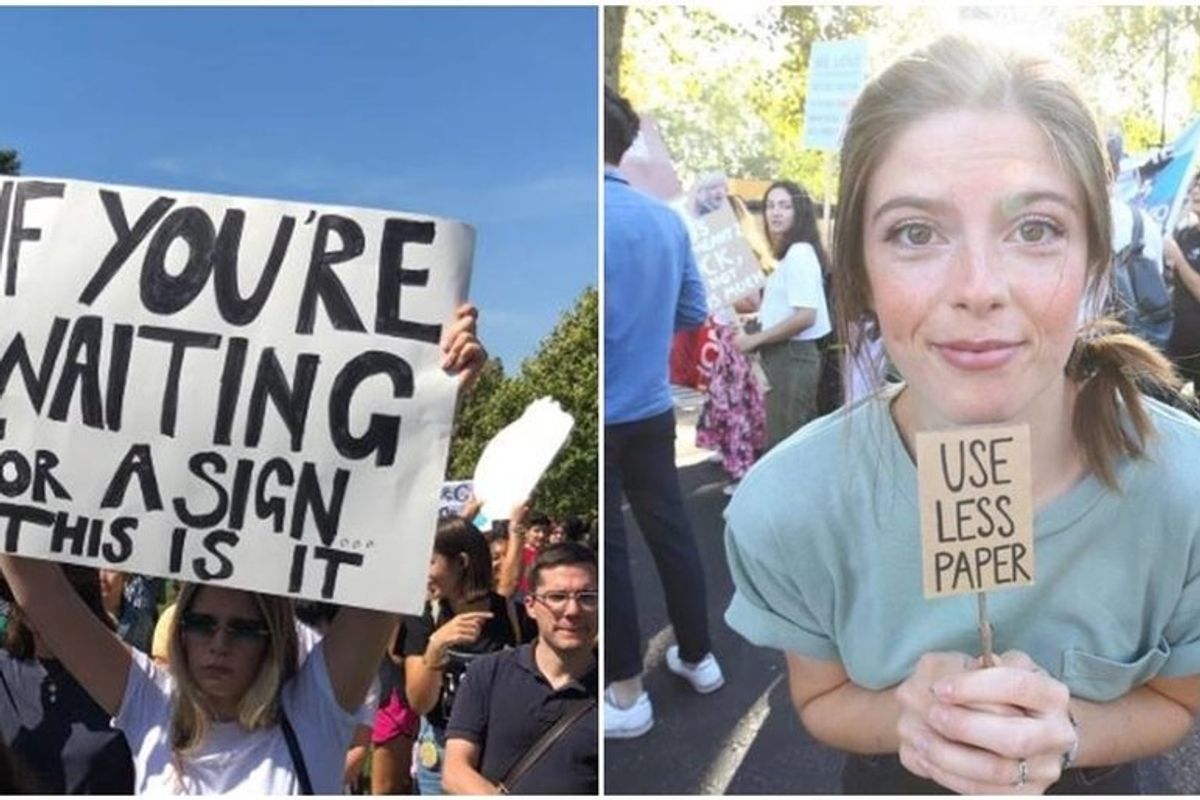 via Twitter / Vice and Twitter / Nathalie Gordo
Millions of people in over 150 countries across the globe marched for lawmakers and corporations to take action to help stop climate change on Friday, September 20.

The Climate Strikes were organized by children around the world as an extension of the of the "Fridays for Future" campaign. Students have been walking out of classrooms on Fridays to speak out about political inaction surrounding the climate crisis.
"We need to act right now to stop burning fossil fuels and ensure a rapid energy revolution with equity, reparations and climate justice at its heart," organizers say.
---
Here's what it looked like in major cities across the globe.
New York City
Chicago
Berlin
New Delhi
London
Lagos
The protests have given people a venue to express how they feel about the global crisis, and most of the blame was directed at the politicians and companies that got us into this mess in the first place.

The Climate Strike inspired countless people to vent their rage through funny, attengtion-grabbing signs.
Here are 25 of the funniest:
This is my favorite sign thus far. #ClimateStrike pic.twitter.com/yXZD3Aihc7
— Shannon is in FIGHT MODE (@Katpa73) September 20, 2019
"We are the most important generation because we are the most impacted by climate change," said Yoshi Futai, 16. #ClimateStrike pic.twitter.com/EZ2ZdAZ2Na
— riley robinson (@rirob111) September 20, 2019
is my sign too niche? #ClimateStrike 12pm custom house quay 🌎 pic.twitter.com/83gxZRrtAp
— Rosa Nutty (@RosaNutty) September 20, 2019
The wrong amazon is burning #ClimateStrike pic.twitter.com/AGgRxZD6q4
— Sixteen Films & Ken Loach (@KenLoachSixteen) September 20, 2019
My favourite sign so far from #ClimateStrike in London . pic.twitter.com/xID24vrzsh
— Birgit Maass (@birgit_maass) September 20, 2019
this one is sick pic.twitter.com/AareFHYmni
— henno (@jrhennessy) September 20, 2019
who made this it is MAGNIFICENT pic.twitter.com/s2KsXqgLdb
— Bella Mackie (@bellamackie) September 20, 2019
Favorite sign so far at London #climatestrike: Less Boris More Forests pic.twitter.com/je50b27kUn
— Sarah Jaffe (@sarahljaffe) September 20, 2019
"If you're waiting for a sign this is it" #climatestrike 📸by @wheelb pic.twitter.com/8NZWVKS21A
— VICE News (@vicenews) September 20, 2019
"We'll be less activist if you'll be less shit" #climatestrike pic.twitter.com/8IjsF0DrOH
— Sarah Jaffe (@sarahljaffe) September 20, 2019
"Science: Because You Can't Just Make 💩 Up" #ClimateStrike 📸 by @ElizLanders pic.twitter.com/5VzVSy7IXp
— VICE News (@vicenews) September 20, 2019
Some Sydney #ClimateStrike signs!

"Kinda thought my death would be cooler than this." pic.twitter.com/6eCdlBYDZJ
— Mehreen Faruqi (@MehreenFaruqi) September 20, 2019
Shoutout to the activist shawn mendes fans #climatestrike

via @emvdn :) pic.twitter.com/R4Au3W1Rb5
— Amy Louise Doherty (@amyloudoherty) September 20, 2019
Hands down best sign #ClimateStrike pic.twitter.com/rsNdhhZjCY
— Nathalie Gordon (@awlilnatty) September 20, 2019
The @lizzo X #ClimateStrike sign this world deserves. pic.twitter.com/bEdJdaW1ej
— Alex Anastassiou (@alexanasta_) September 20, 2019