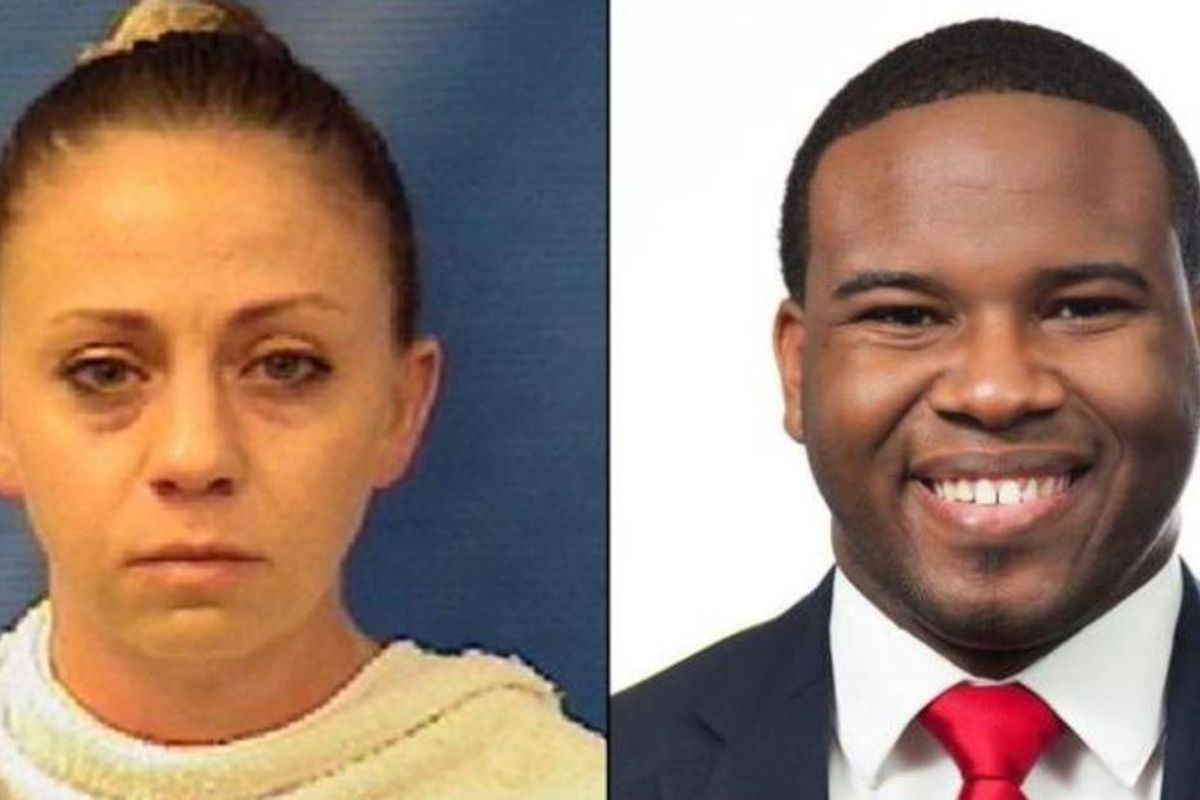 via Facebook / Kaufman County Jail
Former Dallas police officer Amber Guyger was sentenced to ten years in prison on Wednesday for the murder of Botham Jean. The sentence comes a day after she was convicted of murder and faced five to 99 years or life in prison.
Guyger has the opportunity to appeal the conviction.
The sentence came down after emotional testimony from the Jean family and the revelation that Guyger shared racist text messages.
In the texts she said black officers have a "different way of working" and joked about the death of Martin Luther King, Jr. Two days before she murdered Jean, a friend texted saying they adopted a German Shepard that "might be racist," to which Guyger replied, "It's okay ... I'm the same."
Last year, Guyger entered Jean's apartment and shot him as he sat in a chair watching television. In a 911 call at the scene of the crime, Guyger repeatedly admits she thought she was in her apartment, which was a floor below in the same complex.

The conviction is much more than a victory for the Jean family. Many see it as justice for people of color across America who've been killed by law enforcement and never received justice.

Research from NBC News shows that 900 to 1,000 people are killed by the police each year, but only 35 have been convicted of a crime related to an on-duty fatal shooting since 2005.
"This verdict is for Trayvon Martin," Ben Crump, an attorney for the Jean family, said Tuesday after the verdict. "It's for Michael Brown, it's for Sandra Bland, it's for Tamir Rice, it's for Eric Garner, it's for Antwon Rose, it's for Jemel Roberson, for EJ Bradford, for Stephon Clark, for Jeffrey Dennis, Genevieve Dawes, for Pamela Turner."
"For so many black and brown unarmed human beings all across America, this verdict today is for them," Crump continued. "Everybody can raise their hands — this verdict is for them. This verdict is for them."
Botham Jean family attorney Ben Crump after the conviction of Amber Guyger:

"This verdict is for Trayvon Martin, it's for Michael Brown, it's for Sandra Bland, it's for Tamir Rice, it's for Eric Garner ... for so many unarmed black and brown human beings all across America." pic.twitter.com/UWA1da32gj
— NBC News (@NBCNews) October 1, 2019
On Sept. 6, 2018, just before 10 p.m., Guyger drove home after working a 13.5-hour shift. Upon arriving at what she thought was her front door, she failed to notice that, unlike her apartment, this one had a red door mat.

She put her key fob to the door but realized the door wasn't locked and pushed it open.
When Guyger arrived in the apartment she saw a shadowy figure she assumed was a burglar. According to testimony, she pulled out her gun and ordered the man to show his hands. She then discharged two rounds from her firearm.
That figure was an unarmed 26-year-old accountant named Botham Jean and it was his apartment.
Jean was watching television and eating a bowl of ice cream when Guyger entered the apartment.
Guyger had accidentally parked in the garage a floor above hers. She then walked past over a dozen apartments without realizing her mistake before arriving at Jean's apartment, directly above hers.
On a 911 call from the incident, Guyger can be heard saying, "I thought it was my apartment," 19 times.
"I'm an off-duty officer," Guyger told the 911 dispatcher. "I thought I was in my apartment. And I shot a guy thinking that he was... Thinking it was my apartment. ... I'm fucked."
Throughout the call she tries to roust Jean saying, "Hey bud. Hey bud. Stay with me, bud." She also apologizes to the dying man saying, "I'm sorry."
Jean was taken to a nearby hospital where he died.

Three days after the shooting, Guyger was charged with manslaughter. By the end of the month, she was fired by Dallas PD. A grand jury would later ratchet up her charge to murder, for which Guyger stands to spend life in prison.
Jean's death sparked many protests and demonstrations in the weeks after the shooting. A few days after the shooting, dozens of protesters gathered outside Dallas Police headquarters and officers fired pepper balls into the crowd.
On September 12, a Dallas City Hall meeting was brought to a halt after protesters chanted, "No justice, no peace."
After the verdict, Crump said Jean was a "near perfect" person.
"This jury had to make history in America today, because Botham was the best that we had to offer," Crump said. "Twenty-six year old, college-educated black man, certified public accountant, working for one of the big three accounting firms in the world, PricewaterhouseCoopers."
"But it shouldn't take all of that for unarmed black and brown people in America to get justice," Crump said.