Politics
Electoral Commissioner rebukes Trump: We don't 'get rid' of ballots, we 'count them.'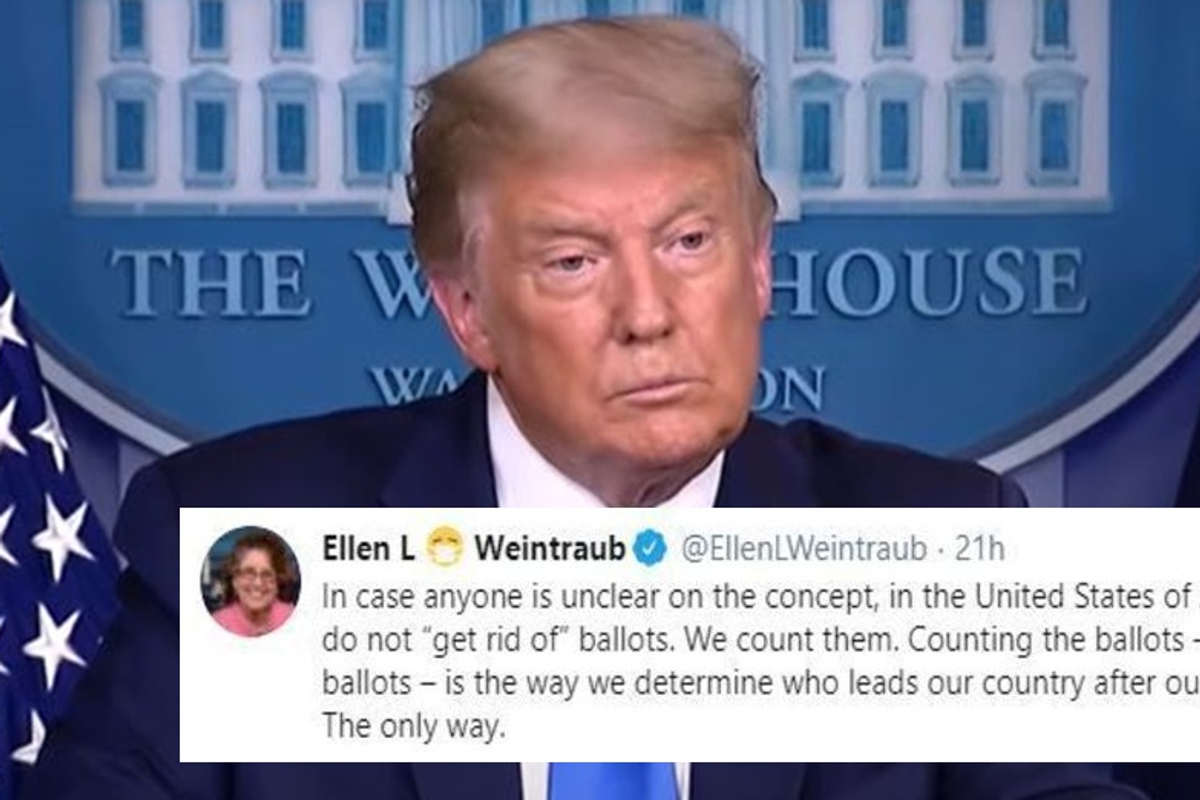 via CNBC
The Federal Electoral Commissioner has come out to firmly repudiate President Trump's comment that election officials should "get rid" of mail-in ballots cast on November 3.

Ellen Weintraub, Federal Electoral Commissioner (FEC), fired back at the president that saying America does not "get rid" of ballots, "We count them."
---
In case anyone is unclear on the concept, in the United States of America, we do not "get rid of" ballots. We count… https://t.co/NX2cNNsuiK

— Ellen L 😷 Weintraub (@Ellen L 😷 Weintraub) 1600904805.0
Weintraub spoke out after the President made a foreboding comment about whether he'd peacefully concede the election if he loses.

"We're going to have to see what happens, you know, but I've been complaining very strongly about the ballots. The ballots are a disaster," Trump said.
"Get rid of the ballots and you'll have a very peaceful — there won't be a transfer, frankly. There will be a continuation," Trump said. "The ballots are out of control. You know it, and you know who knows it better than anyone else? The Democrats know it better than anyone else."
President Donald Trump won't commit to peaceful transfer of power if he loses the electionwww.youtube.com
The president has repeatedly claimed there will be voter fraud in the election due to the significant increase in mail-in ballots caused by COVID-19 pandemic. He's also pushing the idea that because of the impending fraud, the election may have to be decided by the right-leaning Supreme Court.

There hasn't been any evidence that voter fraud will be a problem. But polls show Trump is likely to lose in November, so he's looking for an alternative pathway to victory.
Trump's attempt to undermine the very core of American Democracy has been criticized on both sides of the aisle. Mitt Romney compared Trump's statement to the fraudulent election recently staged in Belarus.
Fundamental to democracy is the peaceful transition of power; without that, there is Belarus. Any suggestion that a… https://t.co/YIcYaDgkHw

— Mitt Romney (@Mitt Romney) 1600908891.0
Senate Majority leader Mitch McConnell uncharacteristically spoke out against the president saying the transition will be "orderly."

The winner of the November 3rd election will be inaugurated on January 20th. There will be an orderly transition ju… https://t.co/wz7gmWgLuZ

— Leader McConnell (@Leader McConnell) 1600955166.0
House majority leader Nancy Pelosi said Trump's comments come as "no surprise" because he has "been contemptible of science and governance."
Speaker Pelosi says Pres. Trump declining to commit to peaceful transfer of power if he loses is "no surprise" beca… https://t.co/scKie7F4EN

— ABC News Politics (@ABC News Politics) 1600960695.0
Joe Biden called his response "irrational."
Reporter: "Could you talk a little bit about President Trump's comments today that he did not commit to a peaceful… https://t.co/TGwHhHByum

— The Hill (@The Hill) 1600924582.0
Later in the day, Weintraub doubled-down on her support for mail-in ballots, saying that there's "still no basis for the conspiracy theory that #VoteByMail will lead to a rigged election."
40 days (and 40 nights) until Election Day. Early voting opens in much of Illinois today! No matter where you liv… https://t.co/DjBNDX1qgG

— Ellen L 😷 Weintraub (@Ellen L 😷 Weintraub) 1600956744.0
Today's repudiation of the President isn't the first time she's spoken out against his conspiracies.
No. https://t.co/iFOD3dgRsF

— Ellen L 😷 Weintraub (@Ellen L 😷 Weintraub) 1600375722.0
No, Mr. President, there will *not* be mayhem in the 5 jurisdictions that have decided to provide their voters with… https://t.co/G8nuuqaUAE

— Ellen L 😷 Weintraub (@Ellen L 😷 Weintraub) 1600359201.0
If you don't believe me, take it from Republican super-lawyer Ben Ginsberg: "The truth is that after decades of loo… https://t.co/6AFkekdUTg

— Ellen L 😷 Weintraub (@Ellen L 😷 Weintraub) 1599616721.0
Weintraub's brave decision to speak out against the president's attempts to cast doubt on the legitimacy of the election is the type of resolve American institutions should show during this time of crisis. The Trump presidency has put a stress test on our democracy and it will only stand if agencies such as the FEC don't back down.

Because once they do, the pillars of our democracy will go down as well.