A Kenyan inventor's niece was born deaf so he made a glove that turns sign language into speech
12.05.19
The problem with American Sign Language (ASL) is that over 500,000 people in the U.S. use it, but the country has over 330 million people.

So for those with hearing loss, the chances of coming into contact with someone who uses the language are rare. Especially outside of the deaf community.
---
Recent advancements in communications technology such as text message and messenger apps have made it easier for the deaf community to communicate with people who hear. However, a new development out of Kenya looks to take things a step further by allowing deaf people to use their natural language, sign language, to communicate with everyone, face-to-face, in real-time.
Roy Allela, a 25-year-old Kenyan technology evangelist who works for Intel and is a data science tutor at Oxford University, has a six-year-old niece who was born deaf. She had difficulty speaking with her family because they didn't speak sign language.
So Alella got to work developing smart gloves that instantly translate sign language into speech.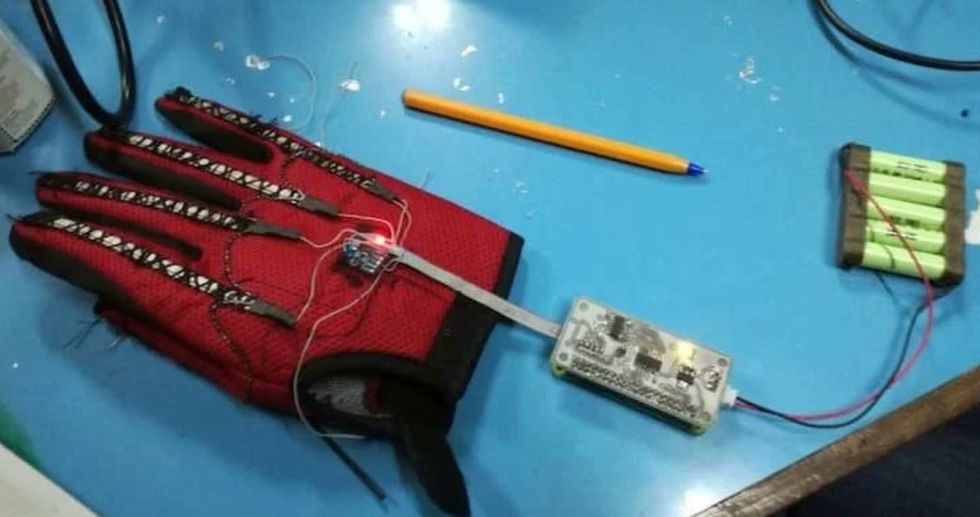 via Conteur Josh / Twitter
"The general public in Kenya doesn't understand sign language so when she goes out, she always needs a translator," he told The Guardian. "Picture over the long term that dependency, how much that plagues or impairs her progress in life … when it affects you personally, you see how hard people have it in life. That's why I've really strived to develop this project to completion."

The gloves – named Sign-IO – have flex sensors attached to each finger. The sensors are programmed to understand letters when they're being signed. The signals are then sent app via Bluetooth technology to a mobile app that converts the letters into vocalizations.
"My niece wears the gloves, pairs them to her phone or mine, then starts signing and I'm able to understand what she's saying," says Allela. "Like all sign language users, she's very good at lip reading, so she doesn't need me to sign back."
The gloves recently won to the hardware trailblazer award from the American Society of Mechanical Engineers. He is currently on the short list for the 2019 Africa Prize for Engineering.
Allela tested the gloves at a school in rural Migori county in Kenya where he figured out how to trouble-shoot one of the most important aspects of the gloves, the speed at which the signs are translated.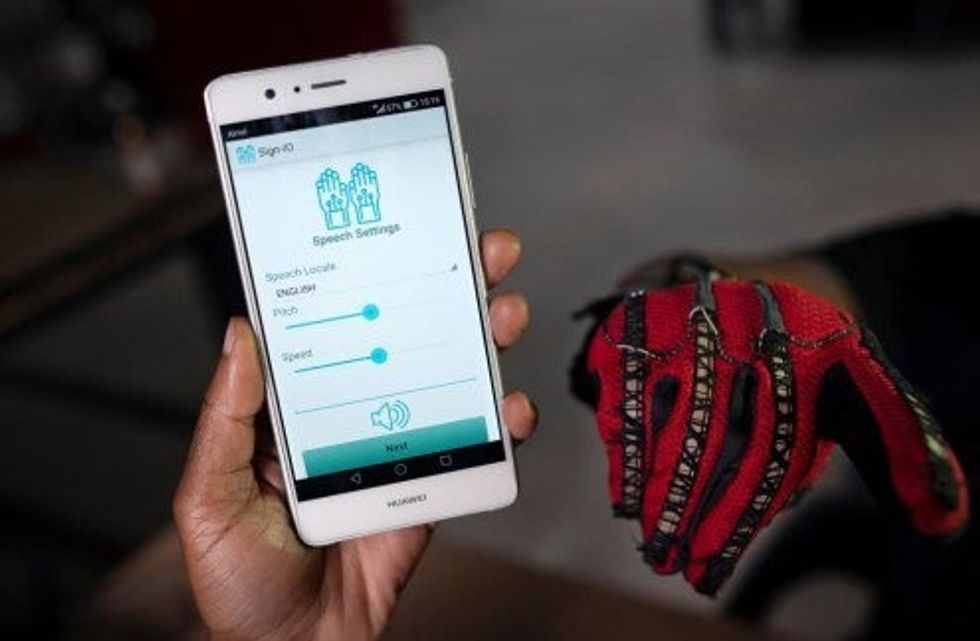 via Moji Sensei Delano / Twitter
"People speak at different speeds and it's the same with people who sign: some are really fast, others are slow, so we integrated that into the mobile application so that it's comfortable for anyone to use it," he said.

According to Allela, the gloves are 93% effective at converting the signs into speech. Users can also adjust the pitch and gender of the vocalization so it sounds more like them.
They can also be stitched into kid-friendly designs such as princess or Spider-Man gloves. "It fights the stigma associated with being deaf and having a speech impediment. If the gloves look cool, every kid will want to know why you have them on," he says.
Allela's goal is to have two pairs of his gloves at every special-needs school in Kenya and to eventually help the 34 million children with hearing loss worldwide.
While this incredible invention may one day help the millions of people with hearing loss across the globe, it all started with simply trying to improve the life of a family member.
"I was trying to envision how my niece's life would be if she had the same opportunities as everyone else in education, employment, all aspects of life," says Allela.
Innovators