Since the International Whaling Commission banned commercial whaling in 1986, whale populations have been steadily recovering. However, whales in the wild still face other dangers. In the summer of 2018, four Russian companies that supply aquariums with marine animals captured almost 100 beluga whales and killer whales (aka orcas). After a public outcry, those whales are swimming free as the last of the captive whales have been released, the first time this many captured whales have been released back into the wild.
In late 2018 and early 2019, a drone captured footage of 11 orcas and 87 beluga whales crammed into holding pens in the Srednyaya Bay. The so-called "whale jail" made headlines, and authorities began to investigate their potentially illegal capture.
---
Russia: Drone captures 'whale prison' in Nakhodka Bay youtu.be
Jean-Michel Cousteau, founder of the California-based nonprofit Ocean Futures Society and son of Jacques Cousteau, and Charles Vinick, executive director of the U.S.-based Whale Sanctuary Project, visited the whales. The whales were struggling, and many had skin lesions. The lesions could have been from a fungal bacterial infection, from frostbite, or from both. Ice was forming over the water in the pens, which workers had to regularly break up using shovels so that the whales could breathe. Even though the whales were in rough shape, it was determined they could be rehabilitated and released.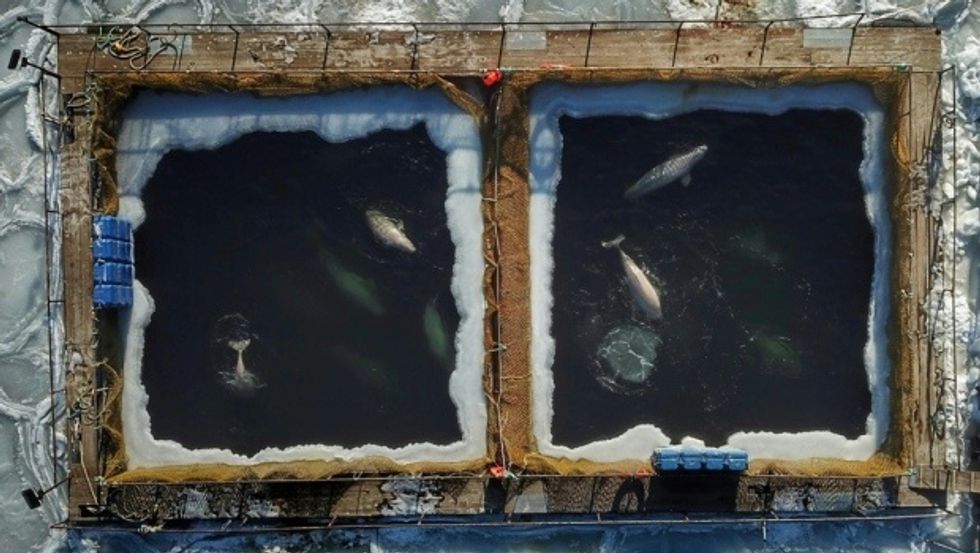 In February, an orca named Kirill went missing. The company said the whale must have escaped, but environmentalists who are familiar with the holding pens believe that it died. Escape from the pens was nearly impossible.
Three of the four companies who took the whales claim they were captured legally. The fourth company did not comment on the situation. However, Greenpeace suspects the whales were intended to be illegally sold to marine parks in China, where the whales would become public entertainment. The belugas could bring in tens of thousands of dollars while the orcas could sell for as much as $6 million.
In April, the Russian government, working with two American NGOs, announced that they were going to release all of the captive whales back into the wild. The first batch of whales (two orcas and six belugas) were moved during a broadcast of Vladimir Putin's call-in show this June. Now, all 98 whales have been released into the Sea of Okhotsk, around 1,100 miles from where they were first captured.
Russia will also change the law that allowed the companies to capture the whales in the first place. Nearly 150,000 beluga whales and around 50,000 orcas live in the world's oceans.
Currently, the law allows the capture of cetaceans for "educational and cultural purposes." Even though the export of orcas for commercial purposes was made illegal in 2018, companies continue to capture marine life via the loophole. The change will close the loophole, permitting the capture of cetaceans for scientific purposes only.