Business
The world is rallying around Tori, the Target employee Tweet-shamed by an irate cheapskate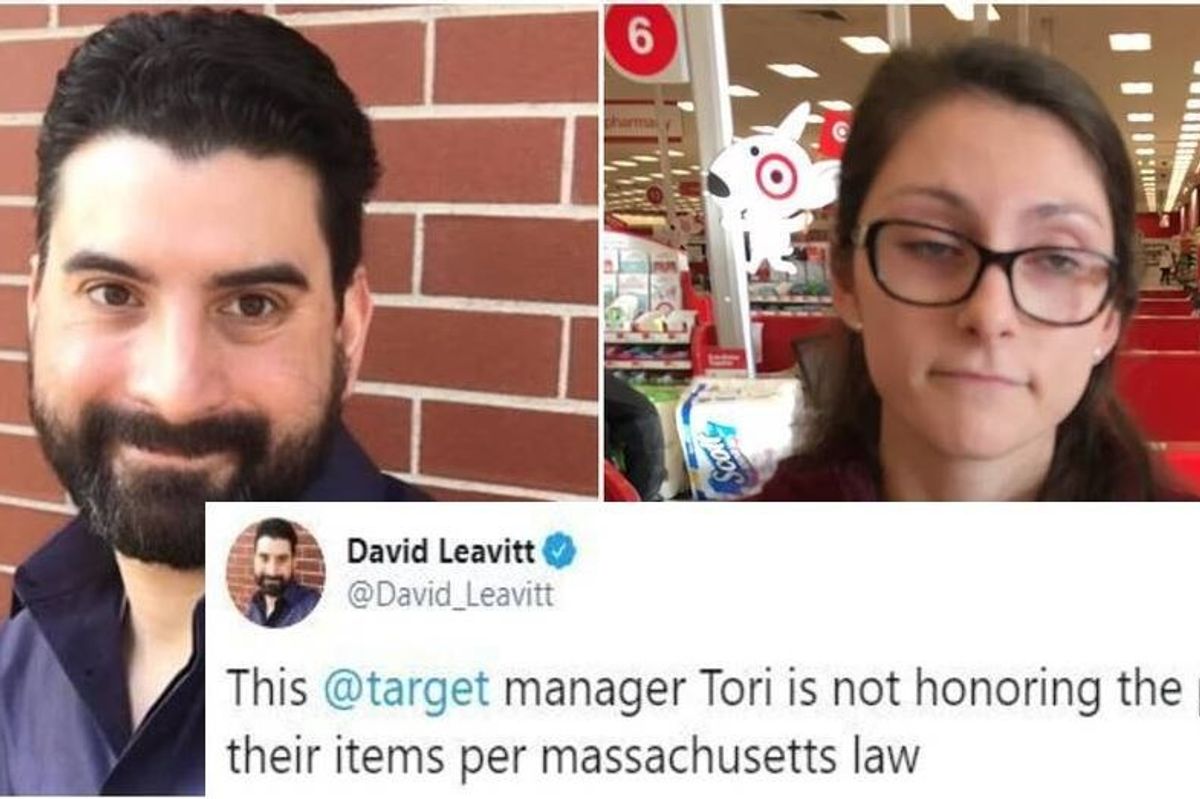 via David Leavitt / Twitter
Anyone who has ever worked in retail knows that the worst thing about the job, right after the pay, are the unreasonable cheapskates who "want to talk to your manager" to get some money off an item.

They think that throwing a tantrum will save them a few bucks and don't care if they completely embarrass themselves in the process. Sometimes that involves belittling the poor employee who's just trying to get through their day with an ounce of dignity.
Twitter is rallying around a gal named Tori who works at a Target in Massachusetts after she was tweet-shamed by irate chapekate, journalist, and Twitter troll, David Leavitt.
---
Leavitt describes himself as a "multimedia journalist who has worked for CBS, AXS, Yahoo, and others."
According to his Twitter post, Leavitt spotted an Oral-B electric toothbrush that was incorrectly priced for a penny at the Target store and demanded that Tori give it to her at that price.
The Oral-B Pro 5000 usually retails for around $89.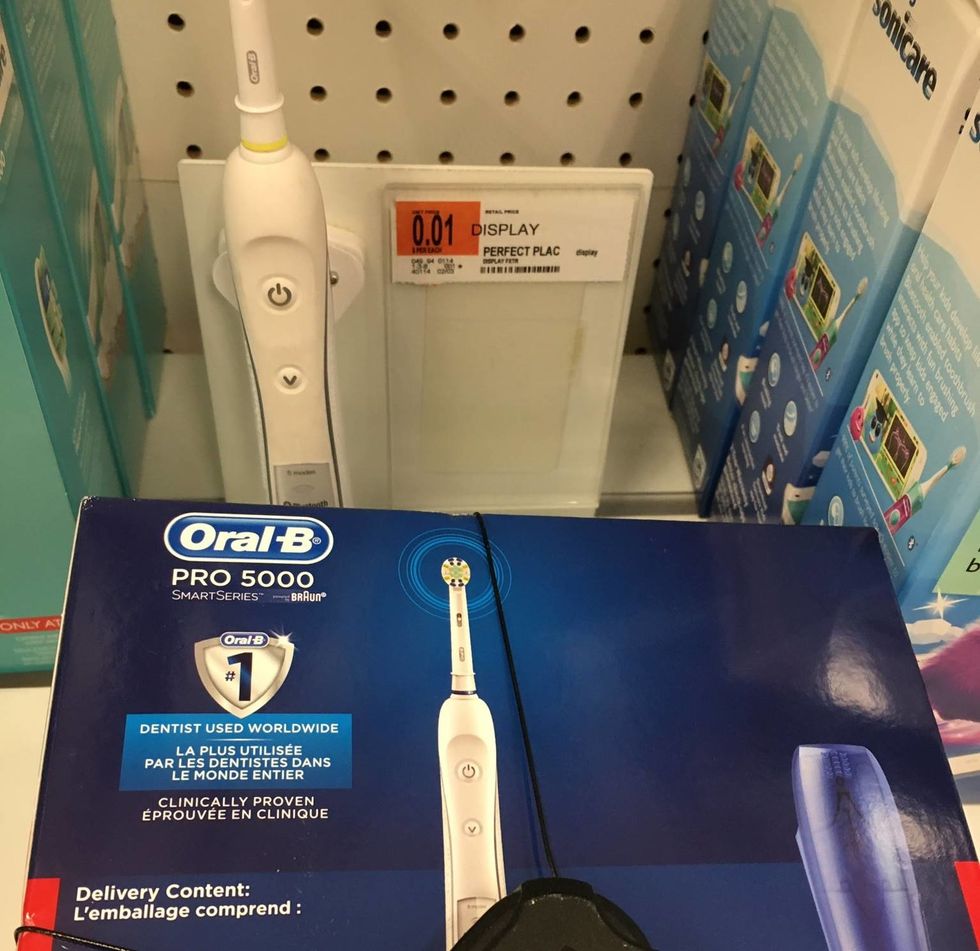 via David Leavitt / Twitter
So Leavitt shamed the woman on Twitter, sharing a photo of her, saying, "This @target manager Tori is not honoring the price of their items per massachusetts law."
He then said he called the police because he believes that Target wasn't following Massachusetts pricing laws. But, as we shall see later, Tori was completely right about the situation.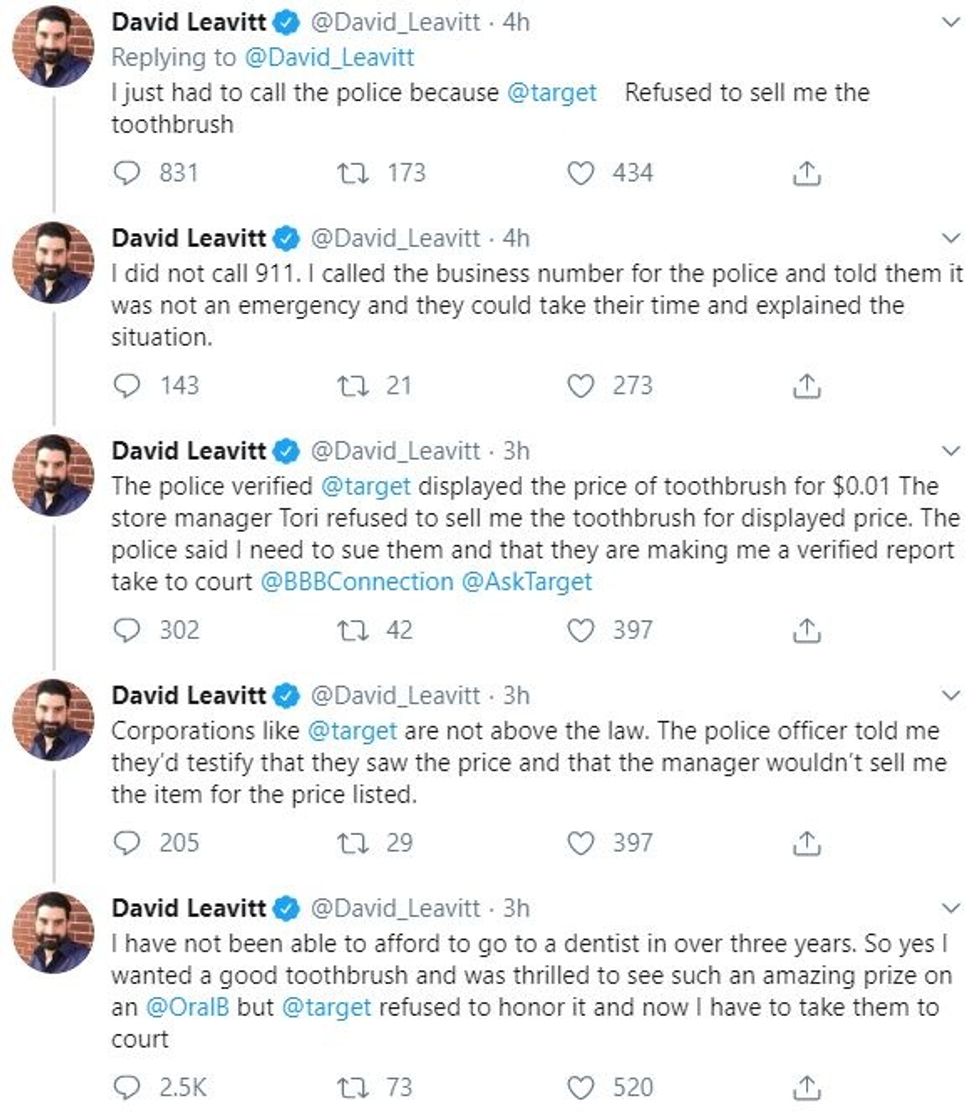 via David Leavitt / Twitter
He now vows to sue Target over the electric toothbrush which seems much more costly than just paying the $89.

Leavitt's tweet quickly went viral and not because the Twitterverse has a bone to pick with Target. Most people think he's a total douche for publicly shaming a young woman who's just doing her job.
Tori is also receiving a lot of love for looking totally nonplussed by his hysterics.
So, let me get this straight. You're bothering the police because of an obvious mistake Target made that you want to exploit?Because we all know those tooth brushes don't sell for .01. Then you went on twitter and blasted the photo of a $15 per hour employee just doing their job?
— Bryan Lee (@FamousBL3) January 17, 2020
Hey @Target . Please give Tori a raise and an extra week of vacation. She is awesome.
— Casserole-o-Disaster (@Veggiemacabre) January 17, 2020
It's a crowded field, but you've won dick of the week on twitter, you utter creep.
— thebradfordfile™ (@thebradfordfile) January 17, 2020
Leave the girl out of this and take down her picture. You're a bad person for doing this to her.
— Bridget Phetasy (@BridgetPhetasy) January 17, 2020
There is 1 sympathetic character in this story

Tori? We need to start a Gofundme for Tori.

This girl needs a vacation. pic.twitter.com/sPL4CkYHqA
— Understudy to Cowboy Curtis (@Bugs_Meany) January 17, 2020
I worked in retail sales/management for 15 years

Customers were always trying to barter, and get sale prices for no reason

Tori is doing her job and following policy

You 'can' purchase a regular, old fashioned toothbrush for $1 pic.twitter.com/sQd82ownn7
— RetroMissJilly (@RetroMissJilly) January 17, 2020
An eagle-eyed Twitter user pointed out that the tag is for the display item.
How can you be an "award-winning multimedia journalist" and also be illiterate?

Its for the display, not the item. Probably because that display is a spot on the shelf, and has to have a tag on it because of the stores internal system pic.twitter.com/8ThcZK0UXd
— America Guy (@that_guy5531) January 17, 2020
Another pointed out that according to Massachusetts law, David is wrong.
David is wrong. That law doesn't apply when discrepancy is a gross error, in that the lowest price is less than half of the checkout price and the seller, in the previous 30 days, did not intend to sell the grocery item at the lowest price. G.L. c. 94, s. 184C(i)(2) @AskTargetpic.twitter.com/NN7VqLKvgr
— Daniel I. Lampke (@daniellampke) January 17, 2020
Some research reveals that Leavitt is a serial cheapskate and pulled the same move at Walmart in 2018.
Leavitt came to prominence as a Twitter troll after a totally inappropriate joke he made after the bombing at an Ariana Grande concert in 2018 killed 23 people.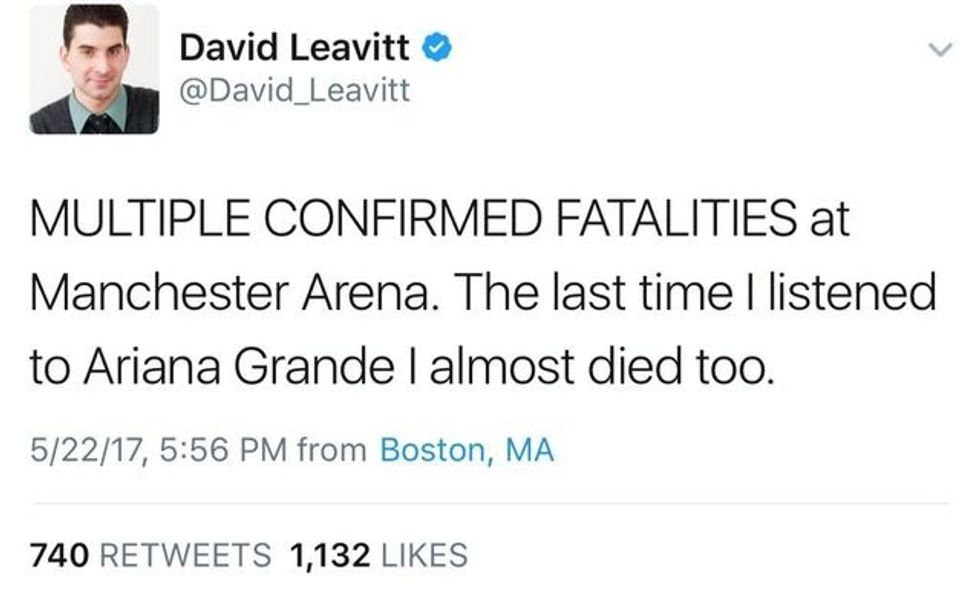 Even Anthony Bourdain took the time to call him a "steaming, gaping asshole" for the joke. Well, it looks like Leavitt hasn't changed one bit.
You, sir, are truly a steaming, gaping asshole .
— Anthony Bourdain (@Bourdain) May 23, 2017